UKIP Welsh Assembly leader Caroline Jones did not declare husband's job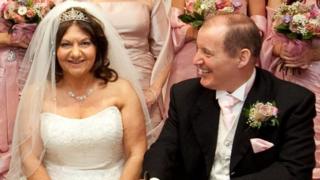 UKIP's new leader in the Welsh Assembly has been employing her husband for over a year without formally declaring it, BBC Wales has learnt.
Alun Williams has been working for Caroline Jones since April 2017 as a full-time community case worker.
His employment was not declared on his wife's register of interests as is required under assembly rules.
The South Wales West AM said it was an oversight which was corrected on Tuesday after enquiries by the BBC.
"I was not involved in the recruitment of my husband," Ms Jones said in a statement.
"The process was handled by MBS [the Members' Business Support team at the assembly] with limited involvement from my office.
"The process was fully open and fair and my husband was selected as he was the best person for the job.
"As MBS handled the whole process, my office mistakenly believed that the Declaration of Interests would be automatically updated.
"As soon as I was alerted to this oversight, I immediately updated my Declaration."
Caroline Jones became UKIP group leader last Thursday after Neil Hamilton was ousted. It followed reports of a heated meeting of the five UKIP AMs.
The Assembly Commission, responsible for running the institution, said: "It is incumbent on the relevant assembly member to ensure that they fulfil their duties with regard to the Register of Members' interests."