Some deterioration at Welsh jails, says chief inspector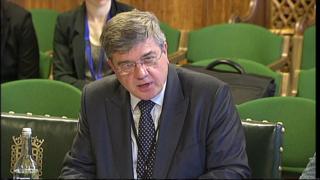 Conditions in Welsh jails have worsened, Chief Inspector of Prisons Peter Clarke has warned MPs.
He said there was "some deterioration" in the past two years, particularly at Swansea Prison whose inspection in August 2017 was "quite troubling".
Mr Clarke said Swansea's response was "probably the worst I've seen anywhere" with 14% of recommendations achieved.
The Prison Governors Association blamed "severe austerity measures" for the issues at Swansea.
Mr Clarke, giving evidence to the Welsh Affairs Committee which is conducting an inquiry into prisons, said there had been a slight deterioration at Cardiff and HMP Parc.
Usk and Prescoed "inspected very well" but Berwyn is yet to be inspected.
Mr Clarke said: "There has been some deterioration, particularly I have to say at Swansea prison where the last inspection was quite troubling, particularly some concerns around safety and self-inflicted death there."
Swansea West Labour MP Geraint Davies suggested, with Swansea particularly over-crowded, prisoners were spending more time on their own in their cells with an impact on their mental health.
Mr Clarke agreed: "If people are confined in their cells for inordinate lengths of time, what do they do to pass the time?
"Sadly, all too often they turn to drugs and that's certainly an issue at Swansea where 40% of the prisoners there told us that it was easy or very easy to get drugs on the survey we carry out.
"17% of prisoners at Swansea told us that they'd actually acquired a drug habit since being in the prison."
Mr Clarke said although Swansea was one of the most over-crowded prisons, a variety of issues were behind its relatively poor performance.
"Our assessment at Swansea dropped in three of our four tests, so that was really quite concerning and I have to say the response to inspectorate recommendations was particularly poor and it's probably the worst I've seen anywhere."
HM Prison and Probation Service has said it took "immediate action" since the inspection and put a "robust action plan" in place to address the recommendations.
MPs are also looking into Welsh language prison for prisoners.
Acting Prisons and Probations Ombudsman, Elizabeth Moody, told them she had upheld one prisoner's complaint about the lack of Welsh language books at Gartree prison in Leicestershire.