Zero-hours employers should not get Welsh Government aid, AMs say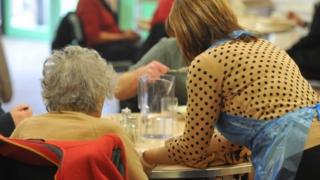 Firms which employ people on zero-hours contracts should not be given work, grants or loans by the Welsh Government, AMs have said.
The assembly's equality committee said ministers should do whatever they could to tackle in-work poverty.
It wants gender pay gap data published by all Welsh Government-supported firms with more than 50 staff, compared to the current limit of 250.
The Welsh Government said it will reply to the AMs' report in due course.
The committee said it recognised the Welsh Government did not have power to change employment law, but could do more to tackle low pay in its decisions on awarding contracts.
It also urged ministers to encourage firms to pay the voluntary living wage of £8.75 per hour, higher than the officially-set national living wage of £7.83 per hour.
AMs also repeated their call for a dedicated strategy to tackle poverty as ministers previously said it would be pursued across all departments.
'Use powers creatively'
Labour AM John Griffiths, who chairs the equality committee, said it was "unacceptable" that changes in the nature of work should be "driving up levels of in-work poverty".
"As some of the policy levers that can help address this are outside of the Welsh Government's control, we call for them to use the powers they have creatively, to ensure that people living in Wales have access to good quality work which pays a decent wage."
A Welsh Government spokesperson said: "We are working hard to tackle these issues and to achieve our ambition of making Wales a fair work nation.
"To take this forward, we are establishing a Fair Work Commission, which will report by spring 2019. We have also used our powers to curb the use of zero-hours contracts in the domiciliary care sector.
"We have introduced a code of practice to establish ethical employment practices in supply chains and issued guidance to limit the use of zero-hours contracts in public services, and just this week we launched our new Economic Contract, which is aimed at driving responsible business behaviours, including around fair work."