Self-driving vehicles could threaten cars and buses, AMs warned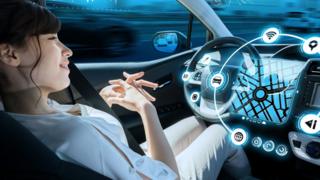 Self-driving vehicles could be a threat to private car ownership and public transport, the founder of a firm making autonomous vehicles has told AMs.
William Sachiti of the Aberystwyth-based Academy of Robotics, addressed the assembly's economy committee.
"Why would you own a car if a car can just pick you up, take you where you need to and then it's gone?" he said.
Another expert said secure systems were essential or hackers could "bring an entire city a standstill".
Dr Wolfgang Schuster, a Intelligent Mobility Technical Director at design and engineering consultants Atkins, warned of the IT risk of a "single point of failure because if you can infiltrate through a specific channel and you can suddenly affect thousands of vehicles".
But Mr Sachiti said self-driving vehicles would be secure "just like banks" by the time they became widely available.
Mr Sachiti told the committee taking trips in such cars would probably cost less than getting a bus.
Speculating on how the new industry could develop over the next decade or so, he told the committee: "Imagine you've got a vehicle able to take you pretty much anywhere within about an hour and it costs nearly nothing, probably cheaper than it would for your local bus, to take you door-to-door.
"Now, everybody's doing this at the same time, so you've got many cars on the road that are constantly on the move.
"Would you still get up, it's raining, go to the bus stop, get a bus, get to the train station, get a train and then get to work?
"I don't think so."
But Mr Sachiti said that the rollout of autonomous vehicles also had major implications for the car industry, including the potential "end car ownership as well".
"Why would you own a car if a car can just pick you up, take you where you need to and then it's gone?" he said.
The committee also heard that driverless vehicles could also offer opportunities for public transport, allowing smaller buses to run at off-peak times or in rural areas without the cost of a bus driver.
There was support from the experts for a suggestion by Plaid Cymu AM Adam Price that a town in Wales could be used to test how self-driving technology could interact with humans.