Unite union stands firm on how Labour leader is elected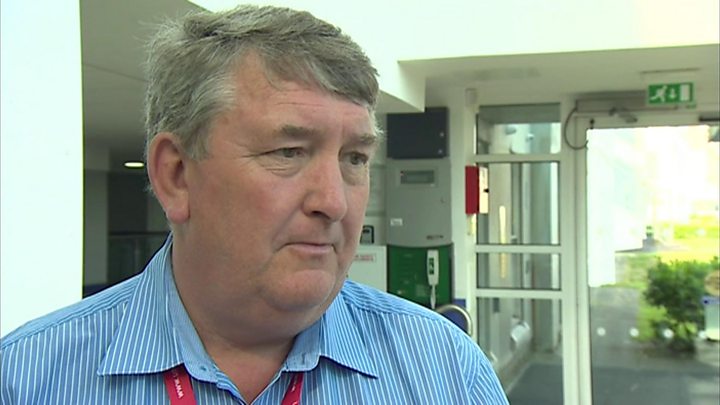 Outside forces will not pressure Wales' biggest union to change its view on how Carwyn Jones's successor is elected, its leader has insisted.
Unite Wales' Andy Richards said he would listen to views on whether Labour should move to one-member-one-vote to choose the new Welsh Labour leader.
He was speaking at the annual Wales TUC conference, in Llandudno.
Earlier, Mr Jones addressed union leaders for the last time before he steps down in December.
A leadership election will be held in the autumn, with the winner also becoming the new first minister of Wales.
Last year, Welsh Labour's executive committee agreed to retain an electoral college system for future leadership elections - where members' votes are weighed equally with those of trade unions, affiliated groups, MPs, MEPs and AMs.
Following a consultation, it rejected one-member-one-vote (OMOV) - which has been used in the two Labour leadership elections where Jeremy Corbyn was successful and where party members' votes are all considered equal.
Advocates of OMOV say the system is more democratic, but those who support the electoral college have argued that it reflects the links the party has with trade unions.
Mr Richards told BBC Wales: "At this point in time, the Unite Wales position is that it is the electoral college, and that is that.
"If I was not able to take pressure I would not have been in this job as long as I have but my job is to defend the union's interests and influence and as far as Unite Wales is concerned we are happy with the present system."
Mike Payne, a regional political officer with the GMB union and a former chairman of Welsh Labour, said those pushing for rule changes "need to remember this is a party that was set up to provide workers with a voice and we are not going to hand over that voice to anyone".
"We understand that the existing system needs to change but it's not going to change to the detriment of trade union members. We need to have a conversation."
Current chairwoman Margaret Thomas said she believed Labour members wanted a special conference to decide the leadership rules.
A decision on the conference will be made at the next meeting of the party's Welsh executive committee in June.
---
Nick's analysis
What does all this mean for the leadership race?
There is of course only one candidate so far, Mark Drakeford, and many believe that if there is a move to one member one vote it puts him in an untouchable position in the contest in the autumn.
I am told the candidates were not encouraged to attend the conference - the TUC is determined to keep its independence - but that didn't prevent the Health Secretary, Vaughan Gething, from dropping in to press the flesh while en route to visiting a hospital nearby.
How convenient, and how handy it would be for him if the unions really do hold firm and resist the push to OMOV.
Blog - Last Tango in Llandudno
---
In his speech the first minister said Labour would use all the assembly's powers to improve working conditions, with a fair work commission due to report back next spring, after he has stood down.
"We will push the boundaries of our powers in order to create that fair work nation," he said.
Mr Jones also said the Welsh Government was listening to the concerns of teachers as responsibility for setting their pay is devolved from London to Cardiff.
"I know with this new responsibility comes questions and apprehension," he said.
'Restrictions'
Delegates applauded his promise that there would be a guard on all trains on the Wales and Borders rail network.
Ministers announced this week that the franchise would go to the French and Spanish-owned consortium KeolisAmey in October.
He hinted that the Welsh Government - which has promised a not-for-profit railway - would have made more sweeping reforms to the franchise if it had the powers needed.
"I am not going to pretend to you that it would be our first choice option, but we have to work within the restrictions imposed on us," he said.