'I wasn't able to convince Cameron or Osborne'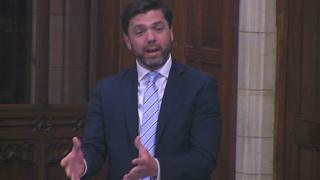 MPs sometimes joke that the best way to keep something a secret is to say it in Westminster Hall, the House of Commons' second chamber.
So did Stephen Crabb let the cat out of the bag when he used a Westminster Hall debate to share some of the discussions inside government about the possible transfer of powers over flight taxes to Cardiff?
New readers start here: the Welsh Government has long called for air passenger duty (APD) to be devolved to Cardiff, as it is to Edinburgh and Belfast. Ministers at Westminster have long resisted the calls, publicly at least.
Thanks to a Westminster Hall debate on relations with Qatar, we learned that APD was discussed during talks about rewriting the devolution settlement that led to the transfer of some tax-raising powers to Cardiff.
Stephen Crabb, who was secretary of state for Wales between 2014 and 2016, said he "wasn't able to convince" the then prime minister or chancellor to change the policy in 2015 but it was now probably time to re-visit the issue.
'Momentum'
Welcoming the advent of flights between Cardiff and Doha, he said: "When I was secretary of state for Wales in 2015, I was pleased to give early support, and tried to inject a little momentum into the vision for a Qatar-Wales link. I am absolutely delighted that that has been brought to fruition, and I wish it every success.
"I do not expect the minister to comment on this, because it falls far outside his department, but for a long time the Welsh Government have been asking the UK government to devolve air passenger duty to them, so they can use that as an extra tool to help them develop the long-haul overseas aviation market."
He added: "I put on record that I wasn't able to convince David Cameron or George Osborne to change the policy, but it is probably time to look at that again, given that the leadership of Cardiff Airport has been so successful in striking up a relationship with the Qataris."
So did the then prime minister and chancellor personally block the devolution of APD? That apparently would be too strong an interpretation. Mr Crabb told me: "They agreed to many of the changes I wanted to make but there were too many uncertainties and concerns about APD to get a decision through."
First Minister Carwyn Jones wrote to the prime minister last year warning that "the UK government's refusal to move on this issue is undermining our economic position compared to our colleagues in other devolved administrations." He received a reply from Welsh Secretary Alun Cairns with a commitment to consider fresh evidence on the issue.