Gap between rich and poor a social crisis - Alan Milburn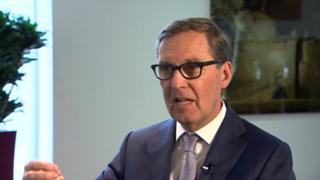 Teachers, lecturers and business people need to do more to help reduce the gap between rich and poor, says the ex-head of the Social Mobility Commission.
Alan Milburn said there was a "social crisis" and people could not stand "idly by".
He said Welsh ministers should lead efforts to improve jobs, education, transport and housing.
Last week, the Welsh Government set five tests to judge its progress on widening education opportunities.
They were announced by Education Secretary Kirsty Williams at an Open University conference on social mobility at which Mr Milburn was also a guest speaker.
They include closing the gap between Wales and the rest of the UK at all qualification levels within 10 years and increasing by at least 10% the number of students studying at masters level by 2021.
Ex-Labour minister Mr Milburn resigned as chairman of the Social Mobility Commission last December, saying he saw little evidence of "meaningful action".
The UK government said his term had ended and it had already decided to get "fresh blood" in.
Wales has a higher rate of poverty than England, Scotland and Northern Ireland, and lags behind the other home nations in global education tests.
Mr Milburn said: "We can't stand idly by and say the social crisis is happening, social mobility is getting worse... and then say that's nothing to do with us guv.
"Local leaders, whether they are in government, in local government, if they're leading businesses, if they're leading universities, they have a responsibility in taking a role in making a difference.
"And then there has got to be participation on the part of businesses, and universities, and colleges and schools."
Mr Milburn, who served as health secretary when Tony Blair was prime minister, warned "if we go on like this we will become ever more divided - that's not what the country wants".
A Welsh Government spokesman said: "All our policies across government are designed to boost prosperity and create opportunities for people in Wales."