Brexit Ministerial Forum 'talking shop' concerns of Plaid Cymru
By James Williams
BBC Wales Brexit correspondent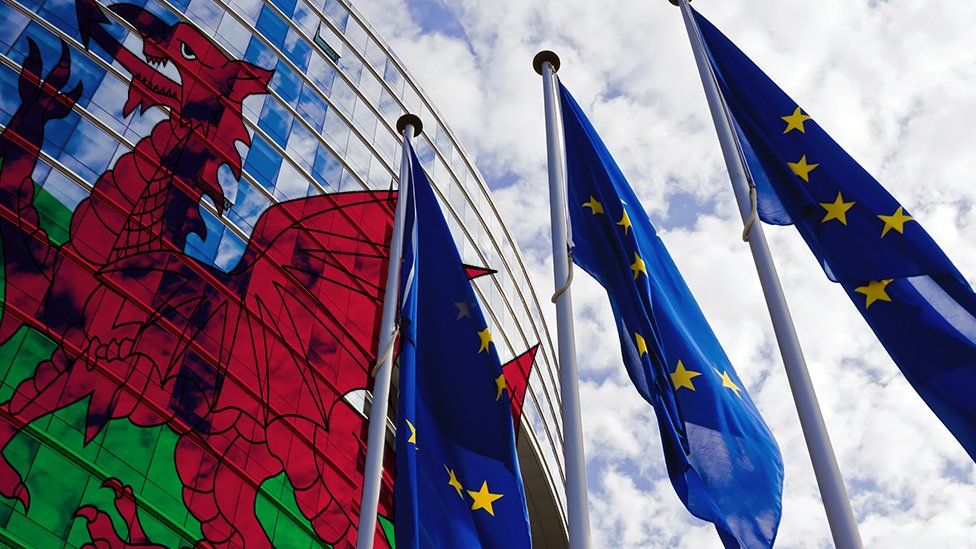 Plaid Cymru claims a new forum giving Wales a say in talks on the UK's post-Brexit relationship with Europe could be "little more than a talking shop".
Housing Minister Rebecca Evans will represent Wales on the new Ministerial Forum, which met for the first time in Edinburgh on Thursday.
Plaid said it was "disappointing" Welsh Labour's lead on Brexit - Mark Drakeford - would not be attending.
The finance secretary told BBC Wales he was busy with other commitments.
Mr Drakeford will continue to attend meetings of the Joint Ministerial Council (JMC) dealing with the UK's departure from the EU, alongside UK and Scottish ministers and officials from Northern Ireland.
He welcomed the new forum, saying the Welsh Government had been seeking to ensure "greater involvement from the devolved administrations in negotiations on the UK's future relationship with the EU".
The group discussing future UK-EU relations will be chaired by the UK Government's Brexit Minister Robin Walker and Constitution Minister Chloe Smith.
Scotland was represented at the inaugural meeting by its Brexit Secretary Mike Russell and Legal Affairs Minister Annabelle Ewing.
Plaid Cymru AM Simon Thomas said: "The new Ministerial Forum is welcome but the crucial question is how the forum will approach the likely scenario in which agreement is not found between the four governments.
"This is why Plaid Cymru believes the four countries should operate as equals, working together in a mature manner to reach common ground, rather than for the three devolved countries to meet with their Westminster counterparts to ask if their concerns could be taken into account.
"It is disappointing that the Cabinet Secretary with responsibility for European affairs, Mark Drakeford, has not been appointed by Welsh Government to this forum. This does beg the question as to whether even Welsh Government believe this will be little more than a talking shop.
"However, I hope that the forum will provide the opportunity for constructive and mature intergovernmental relations, so that Wales's interests can be properly represented and reflected in future negotiations with the European Union," he added.
First Minister Carwyn Jones has previously proposed a UK Council of Ministers to take over from the JMC, which he has dubbed a "talking shop" that sometimes "becomes a shouting match".