Jeremy Thorpe, a nose for conspiracy and Welsh cheese
David Cornock
Parliamentary correspondent, Wales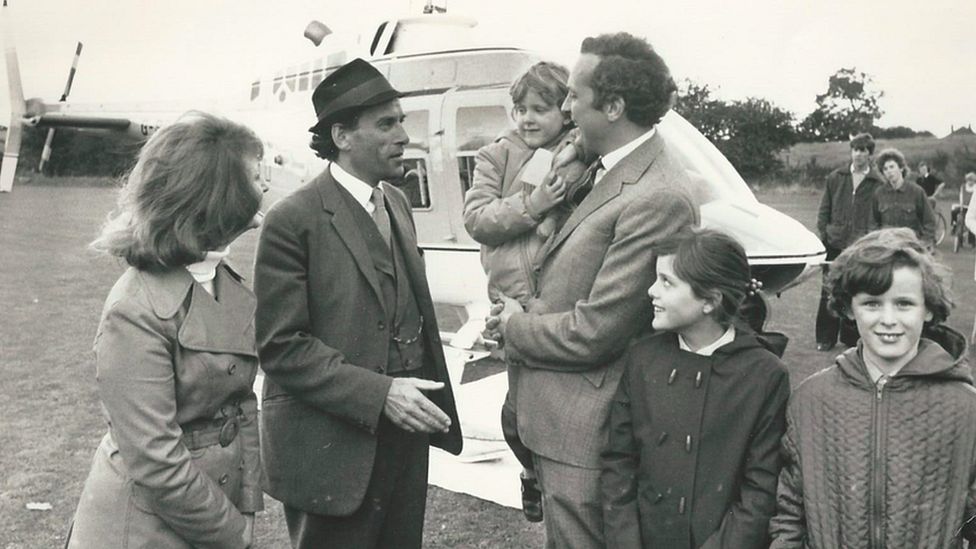 Whether it was the owner of the Pyle Discount Carpet Warehouse, John Le Mesurier, the Cardiff T-shirt printer Dave Miller, or the Port Talbot fruit machine salesman George Deakin, there was enough to prompt talk of a 'South Wales connection'.
Le Mesurier and Deakin, alongside Thorpe, were both acquitted of conspiracy to murder. Miller was said to have recommended Andrew Newton - a former RAF colleague - as someone who could frighten Norman Scott.
It was an extraordinary story, a real marmalade-dropper. As Daniel Finkelstein put it in a Times Q & A: "So you are saying that the leader of the Liberal Party, one of the most famous men in the country, urged on his best man, who contacted a carpet dealer, who involved a fruit-machine manufacturer, who asked a T-shirt printer, who found him an airline pilot, who shot dead the Liberal leader's former homosexual lover's dog?"
There was a north Wales connection too. In the early 1970s, Norman Scott moved to Tal-Y-Bont, and befriended the village postmistress Gwen Parry-Jones. It was she who later contacted Montgomeryshire MP Emlyn Hooson with his story. When Mrs Parry-Jones died, Scott used the inquest to blame Jeremy Thorpe for his troubles although the wider story didn't emerge until much later.
So how accurate is the series? It is a plot that is truly stranger than fiction. How realistic are the characters? Hugh Grant has won widespread praise for his portrayal of Thorpe; Norman Scott has complained about the way Ben Whishaw plays him although it is very recognisable from most books on the subject.
Then there is the mid Wales connection. Montgomeryshire Tory MP Glyn Davies says his Liberal predecessor Emlyn Hooson is unfairly portrayed as scheming and self-serving.
Lord Thomas of Gresford, who shared a Lords office with Lord Hooson, agrees: "You would not think this hesitant person could ever have been a highly successful defence advocate, a farmer who won prizes for his Welsh Blacks at the Welsh Show, the successful chairman of Laura Ashley, the chairman of the Severn Bridge Development Group who saw it through to completion on time and within budget, a man full of ideas and enthusiasm - and charm. Emlyn had a hinterland, wholly supported in everything that he did by [his wife] Shirley."
Lord Thomas has written here about his memories of Thorpe. "He was a terrific campaigner," he recalls. "It was typical of him to swish in on a helicopter to support me in West Flintshire in 1970, to make a speech on the stump and to swish out again, leaving the gathering gasping for breath and hugely impressed."
He adds: "He had one amazing political attribute - an abiding memory of your name and always, one additional attribute about you: for me it was Welsh cheese. On a later trip, he came to Rhyl and in its best hotel in town, I presented him with a piece of our native produce. But he did not delay: he was out of the door quickly to dash up and down the main street. He shook the hand of every voter who could not escape. Unfortunately, we left the cheese temporarily in the hotel fridge and forgot about it for ever. Whenever I met him thereafter he would always greet me with 'Martin, where's my cheese?'"
Lord Thomas recalls one other attribute - "a nose for conspiracy". An innocuous newspaper request for Martin Thomas's number from Thorpe's office led him to conclude furiously that the then chair of the Welsh Liberals war organising a leadership coup on behalf of Emlyn Hooson. "But if there was a plot," says Lord Thomas, "Emlyn never told me."
Whatever Thorpe's political skills, his flying visit to West Flintshire was not a huge vote-winner. Martin Thomas came third, behind Labour and the winning Conservative MP Sir Antony Meyer.
There is one other character who may be familiar to Welsh audiences: Thorpe's press officer, Mike Steele, played by Morgan Watkins - minus Mike's Aussie accent. Mike later went to work for ITV Wales at Westminster - you could call it the New South Wales connection.