Swansea tidal lagoon energy project announcement on Wednesday, BBC understands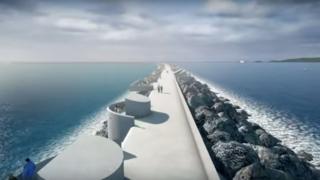 An announcement on the £1.3bn tidal lagoon energy project for Swansea Bay could be made on Wednesday, BBC Wales understands.
It was backed by an independent review set up by the UK government in 2017, but ministers have said the scheme must prove it is value for money.
First Minister Carwyn Jones has offered £200m to help get the lagoon built, amid reports it will be thrown out.
Welsh Secretary Alun Cairns has said the "numbers look awful".
The project was backed in January 2017 by a UK government-commissioned report published by former energy minister Charles Hendry, which recommended that tidal lagoons could play "a cost-effective role in the UK's energy mix".
But ministers in the UK government have refused to commit to the project put forward by Tidal Lagoon Power (TLP) saying it "must be affordable".
Last week, it emerged that Mr Cairns had queried the cost of the energy produced in an email, saying that although he was a supporter, it looked "twice the price of nuclear" and offered a fraction of the jobs.
This prompted Mr Jones to renew his offer of financial support from the Welsh Government, with the figure of £200m made public for the first time.