Welsh MPs quit Labour roles to defy Corbyn in Brexit vote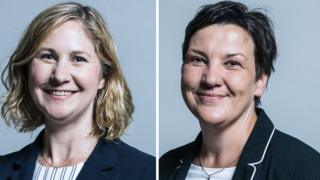 Two Welsh MPs have quit their Labour party roles to rebel against leader Jeremy Corbyn in a key Brexit vote.
Gower's Tonia Antoniazzi and Cardiff North's Anna McMorrin have both resigned as parliamentary aides.
It was so they could vote for a closer relationship with the EU, defying the orders of their leader.
Eight other Welsh MPs also voted for staying in the European Economic Area (EEA), which would mean staying in the European Union's single market.
The Labour leadership had urged MPs to abstain but 75 voted for and 15 against.
A Lords amendment to the EU Withdrawal Bill, committing the UK to EEA membership, was reversed by 327 to 126.
In a statement, Mr Corbyn said he understood the "difficulties" facing MPs "representing constituencies which voted strongly for Leave or Remain" on the issue of the EEA.
But he insisted Labour could not support the so-called Norway model as he did not believe it was the "right option" for the UK.
"It would leave us with next to no say over rules we have to follow, it does not allow us to negotiate a new comprehensive UK-EU customs union and it fails to resolve the Irish border issue," he said.
Plaid Cymru Brexit spokesperson Hywel Williams, Arfon MP, said: "In abstaining on this crucial amendment, the Labour Party has paved the way for the Tories to deliver a hard-Brexit."