'Great uncertainty' over EU citizens Brexit settlement scheme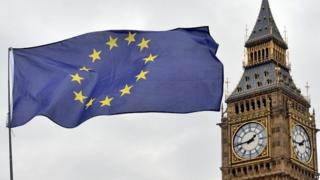 There is a "severe lack of detail" on a scheme to allow EU citizens to stay after Brexit, ministers from the Welsh and Scottish governments have warned.
Mark Drakeford and Fiona Hyslop said a number of immigration concerns were causing "great uncertainty".
In a letter to the Home Office, they said it would be unacceptable for more burdens to be placed on councils without asking the two governments.
The Home Office said it was developing a user friendly scheme.
People who have been living in the UK lawfully for five years by 31 December 2020 will be able to apply for settled status during the Brexit transition period.
Mr Drakeford, Welsh Government finance secretary, and Ms Hyslop, external affairs cabinet secretary, said citizens of the European Economic Area (EEA) - which includes the EU - wanted clarity.
"There are potentially significant numbers of people who are at risk of missing out on settled status simply due to being unable to, or unaware that they can and need to apply," the ministers said in a letter to Home Secretary Sajid Javid.
"This continuing lack of detail is not only a serious issue for our two governments, but is clearly of significant concern to EEA citizens, who are understandably anxious about what Brexit means for their future and the future of their families."
They said there had been "a severe lack of detail" in meetings held so far.
The letter said any extra burdens on local government should be fully funded.
"Local authorities need clear guidance and messaging around what will be expected of them, including clarity on what resources will be made available to local authorities to support any additional responsibilities."
The letter said both ministers were "deeply troubled that we are yet to see any detail on the long-delayed White Paper or Immigration Bill".
"This delay prolongs uncertainty over the UK government's intentions in relation to people coming to the UK after the transition period, which adds not only to the uncertainty for individuals, but also to our concern about the impact on our economies and public services."
A Home Office spokeswoman said: "We have been clear from the start that the devolved administrations should be fully engaged in the exit process.
"We are seeking a deal that works for the entire United Kingdom - for Northern Ireland, Scotland, Wales, and all parts of England.
"We are developing from scratch a new digital, streamlined, user-friendly scheme for EU citizens to safeguard their right to stay in the UK after we leave the EU.
"We are working closely with EU citizens as part of its development."