Plastic microbeads in cosmetics to be banned in Wales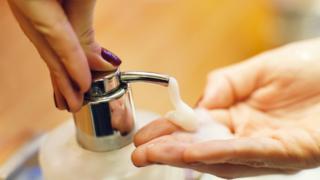 Plastic microbeads will be banned from bathroom products such as shower gel and toothpaste in Wales, after assembly members backed the move.
Campaigners say the tiny pieces of plastic are polluting the oceans with a devastating effect on marine life and are entering the food chain.
The ban on making or selling "rinse-off" personal care products with microbeads will take effect on 30 June.
Bans on their sale came into force in England and Scotland on Tuesday.
Microbeads are a major environmental concern because they are too small to be captured in sewage treatment when washed down the drain.
Environment Minister Hannah Blythyn said: "Microbeads in rinse-off products are unnecessary and harmful to sea life.
"A ban will reduce pollutants from entering our seas and is an important step to safeguarding our marine environment."
Welsh Conservative environment spokesman David Melding backed the idea, and said: "This is a significant step if we are going to put an end to the plastic problem that is choking our seas and scourging our environment."
Plaid Cymru's climate change spokesman Simon Thomas also voiced his support, saying: "A ban on microbeads is part of the action we need to take on plastics along with a levy on single-use plastics."
Local authorities' trading standards departments are expected to be responsible for enforcing the measure.
It is one of a range of proposals aimed at tackling plastic pollution, alongside a ban on plastic straws and a deposit scheme for plastic bottles.