Gareth 'Alfie' Thomas bids to outlaw homophobic chanting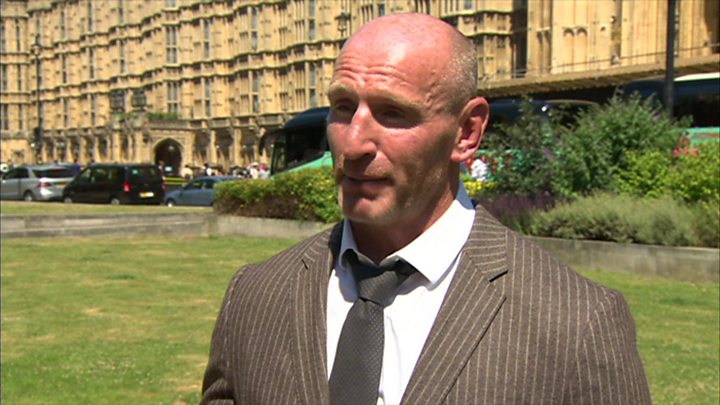 Ex-Wales rugby captain Gareth Thomas has said he is amazed that football fans are still getting away with homophobic chanting at matches.
He described it as "alarming" and said some clubs were not stopping the abuse.
Thomas made 100 appearances for Wales and came out as gay in December 2009.
It comes as he attempts to change the law to put homophobic and transphobic abuse on par with racial abuse at sporting events.
On Monday Thomas, who played for Cardiff Blues, Bridgend and Toulouse in rugby union as well as Crusaders in the Super League, launched a draft bill with MP Damian Collins, chairman of the Commons culture and sport committee, to amend the 1991 Football Offences Act.
Speaking to BBC Radio Wales ahead of the event, Thomas said: "At the moment we're in a very grey area of what is allowed and what isn't allowed, and when you change the law you make it black or you make it white."
He added it was "amazing" football fans were allowed to chant homophobic and transphobic abuse without punishment.
He has previously spoken of his battle with his sexuality and how he came close to suicide after his wife left him three months after he came out.
Thomas revealed that he hid his sexuality from everyone - until admitting his secret to his wife.
He told BBC Wales in 2014: "My career life was very public, but behind what happened on television and wearing my Wales rugby jersey with pride I was slowly dying.
"I'm not sure if it was because I was gay that I felt such depression, it was just that I was lying to everyone."
Monday's launch event will take place at the Houses of Parliament before the Conservative Folkestone and Hythe MP tables the bill.
Section three of the existing act states that "it is an offence to engage or take part in chanting of an indecent or racialist nature at a designated football match".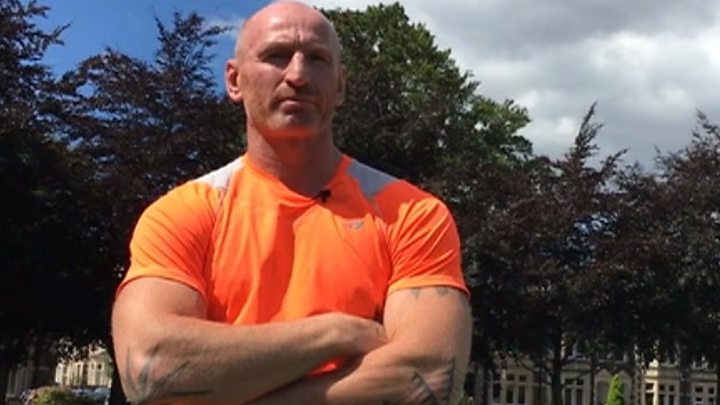 There is a definition of "racialist" - described as "threatening, abusive or insulting to a person by reason of his colour, race, nationality (including citizenship) or ethnic or national origins".
But there is no definition of what is "indecent", so determining whether something is indecent is considered on a case-by-case basis.
In 2017 Thomas presented a BBC documentary called Gareth Thomas v Homophobia, Hate in the Beautiful Game, focusing on institutionalised homophobia in football.
The culture and sport committee in the same year published its report into tackling homophobia in sport.