Nicholas Churton murder: Victim failed by system, MP claims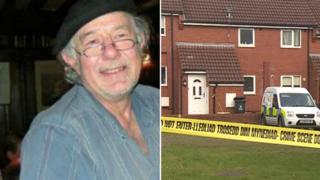 The probation system failed to protect a man murdered by a serial offender who had previously threatened him, a Labour MP has told a Westminster debate.
Jordan Davidson was jailed for life for killing Nicholas Churton, 67, at the victim's Wrexham home in March 2017.
Wrexham MP Ian Lucas asked why Davidson had not been returned to prison after being arrested while out on licence.
Home Office Minister Victoria Atkins said improvements were being made after "significant failings" in the case.
"The primary responsibility of the criminal justice system is to keep people safe," Mr Lucas told fellow MPs on Tuesday.
"I want to highlight a dreadful case, where it did not do so."
During the murder trial, Mold Crown Court heard how 26-year-old Davidson, from Wrexham, had carried out a string of crimes, mostly against older men, and had been freed from prison on licence in December 2016.
Davidson admitted murdering the retired restaurant owner - killed in a machete and hammer attack - and was jailed for life with a minimum term of 23 years.
Mr Lucas told MPs that Mr Churton - described in court as physically frail and disabled - had "complained a number of times to the police about Jordan Davidson" after the younger man's release, and that Davidson had known this.
"In March of 2017, just four months after being released on licence, Davidson was arrested for another offence of possession of a knife," the MP continued.
"He was, nonetheless, released by the police on bail without even a court appearance."
Mr Lucas claimed that changes to the probation system in 2014-15 "contributed to the failure of supervision that led to the release of Jordan Davidson, to the assaults on a number of victims and to the death of Nicholas Churton".
The MP said he was also angry that North Wales Police had refused to meet him to discuss the matter.
Two investigations are ongoing into how police dealt with the case.
'Disgraceful and despicable'
Responding for the UK government, Ms Atkins said a review by the Wales Community Rehabilitation Company (CRC) "identified a number of areas where the practice of those concerned with the monitoring of Mr Davidson fell below expected standards".
"There were significant failings," Ms Atkins added, saying the prison and probation service was now overseeing the implementation of "improved actions" following the review.
The minister said the probation system reforms meant an extra 40,000 offenders were being monitored after their release but she claimed fewer were re-offending.
However, she added: "The Ministry of Justice accepts that there have been challenges and that CRC services need to improve.
"So they are in discussions with the providers at the moment and will consider all options to ensure this improvement is delivered.
"That is, of course, no comfort to the family of Mr Churton."
North Wales Police's Assistant Chief Constable Richard Debicki said: "This was a disgraceful and despicable act perpetrated by Davidson - my heart goes out to Mr Churton's family, who live with the consequences of this offender's terrible actions.
"North Wales Police referred itself to the Independent Office for Police Conduct (IOPC) following the conclusion of the case and while the IOPC investigation continues, it would be inappropriate to discuss the case with individuals or the wider public."