Gareth Bennett to run for UKIP assembly group leadership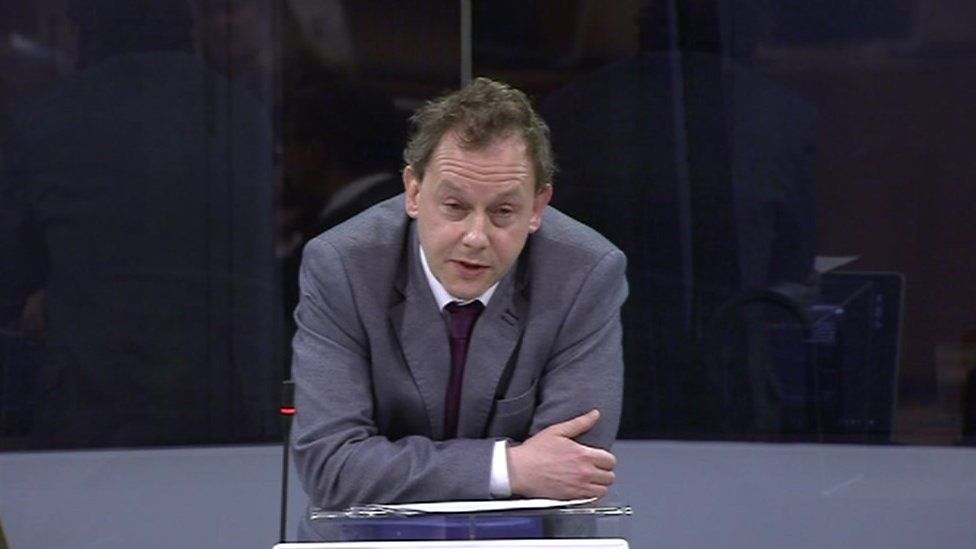 Controversial UKIP AM Gareth Bennett is running in the party's Welsh Assembly leadership contest.
Calling for a new referendum on devolution, he said he will campaign to abolish the assembly.
Mr Bennett is the second AM to announce their candidacy, after ex-group leader Neil Hamilton put his hat in the ring.
UKIP in members in Wales will be balloted by the end of July. Current leader Caroline Jones has yet to launch a campaign.
A ballot was declared for the leadership following a visit by UKIP deputy leader Mike Hookem to the assembly last week.
Mr Bennett said he would also campaign to row back "against the increasing cost of the Welsh language provisions".
"I am the only candidate with radical policies. The others are just offering things that are little different from the mainstream parties," he said.
"In Wales, the people now need to be able to have their say on whether or not they think that the Welsh Assembly serves a useful purpose.
"The last referendum, in 2011, was a complete con-trick, as people who did not support the existence of the Assembly had no option to vote for. We now need to have a meaningful referendum on this."
He added: "We have to review whether throwing millions of pounds of taxpayers money at a random target of achieving one million Welsh speakers is actually going to achieve anything.
"We should protect the Welsh Language in its heartlands in the Western areas."
He was briefly barred from speaking in the Senedd by the presiding officer Elin Jones following a speech about transgender rights.
Earlier this year BBC Wales reported that Mr Bennett had spent almost £10,000 of taxpayers' money on a constituency office in Pontypridd that never opened.
The UKIP AM blamed issues with the landlord for why the project was unsuccessful, and his spokesman said he paid £4,500 from his own pocket to terminate the lease.
UKIP UK leader Gerard Batten told BBC Wales, prior to Mr Bennett's declaration, that he had decided that the ballot was a way to resolve the "internal political issues" among the AMs.
"I have no preference for who wins," he said.
"I just want the issue resolved so assembly members can work together and get on with the business of representing their voters, their representing the people of Wales, and planning for the next election.
"I hope this will then resolve any internal disputes and I expect all of the assembly members to then work together in the interests of their constituents and the interests of UKIP."
Estimates by former leader Mr Hamilton put the number of members of the party in Wales at "around 1,000".
Caroline Jones earlier told BBC Wales that she hoped to win members' support.
But there has been no official launch of a campaign so far.