Next Welsh Tory leader 'must reflect members' Brexit views'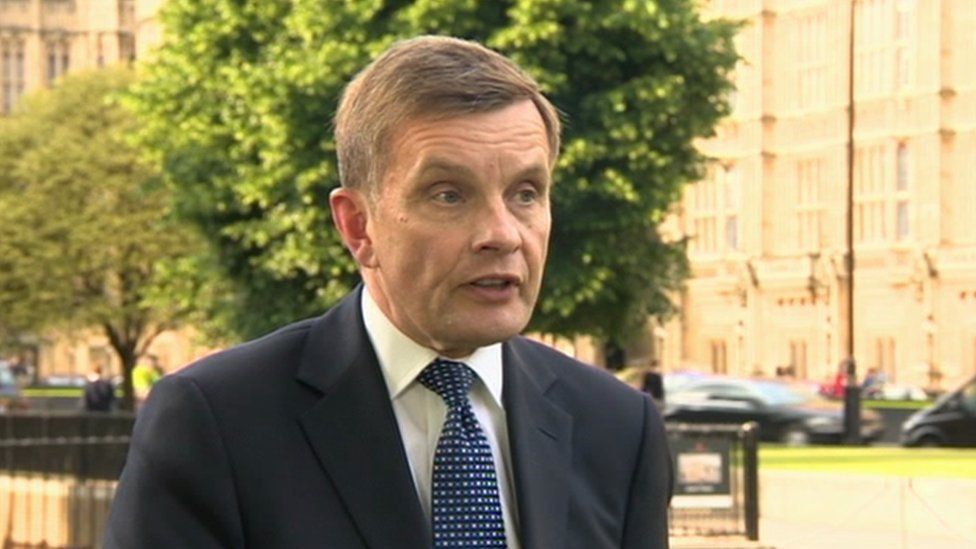 Leading Welsh Tory Brexiteers have said their party's next leader in the assembly must reflect grassroots members' Eurosceptic views.
Former Welsh Secretary Mr Jones said there must be a contest and that the AM could be a candidate.
Meanwhile, a former aide to Mr Davies, Anthony Pickles, said the ex-leader was "hamstrung" by how the party was run.
Preseli Pembrokeshire AM Paul Davies - who campaigned for Remain - is in charge as interim leader and has told BBC Wales he would like the job permanently.
Andrew RT Davies backed Leave in the 2016 referendum.
Clwyd West MP Mr Jones - also a former Brexit minister - said: "I am sorry to see Andrew Davies felt the need to resign.
"He has done a good job over the last few years and he has reflected the views of the Welsh party as a whole which is overwhelmingly Eurosceptic," he said.
"I think that his replacement should be the subject of an election by the party in Wales, as the party rules demand, and I see no reason why Andrew - if he felt inclined - should not be a candidate in that election," he said.
The next leader should be "someone who is reflective of the party as a whole," he added.
On Twitter, Monmouth MP David Davies - also a Leave supporter - said Andrew RT Davies "has been brilliant leader in Wales".
"This straight talking no nonsense farmer is going to be a tough act to follow. Hope his successor will reflect the Welsh vote for Brexit," he added.
Party bosses will meet in the next few days to decide the timetable for leadership candidates to throw their hat in the ring.
So far, none has said they will run against Paul Davies.
He would not confirm claims that he spoke to Andrew RT Davies some weeks ago and urged him to stand aside.
Paul Davies has been backed by Monmouth AM Nick Ramsay and Clwyd West AM Darren Millar to take on the job permanently.
In his resignation statement, Andrew RT Davies said: "It is my firm belief that any leader of the assembly group should secure the same mandate in a full ballot of the grassroots, and I hope that my successor will emerge in that manner."
Mr Pickles, who served as chief of staff to the leader between 2012 and 2015, said: "Andrew was hamstrung.
"The idea that policy should be decided by a mysterious board somewhere which includes an MEP and various other people is for the birds.
"Let's do away with this ridiculous title 'the leader of the Welsh Conservatives in the National Assembly' and 'leader of the opposition'.
"It wouldn't fit on a business card. Just admit that whoever is elected by the membership in Wales, is the leader.
"Give them the mandate and the freedom to lead."
North Wales Conservative AM Janet Finch Saunders said: "The recent shenanigans have not been pleasant.
She said she was hoping for "unity" under the next leader and that "outside influences, such as what happened on Friday, were unnecessary and inappropriate".
The AM said party members had been in touch with her calling for a ballot, and did not rule out the prospect of running herself.
Asked if there should be a woman on the ballot, she said: "Certainly it cannot be assumed that a woman would not be asked to put her name forward."
Fellow North Wales Tory AM Mark Isherwood said there should be a ballot and urged party members to tell AMs who they wanted to see in the contest - including Andrew RT Davies if he wanted his job back.
"It is essential that the membership should have the final say on who the leader is through an open ballot, therefore it is essential that we have more than one nominated candidate coming forward," Mr Isherwood said.
"Who that candidate should be should reflect the expressed views of the membership, which may or may not include calls on Andrew to put his name back in the hat.
"Personalities aside, seven years ago I believed there should not have been a coronation and worked to ensure there wasn't.
"And again this time, regardless of the calibre of each individual, I equally believe there must not be a coronation."