Ex-MP Irranca-Davies joins Welsh Labour leader race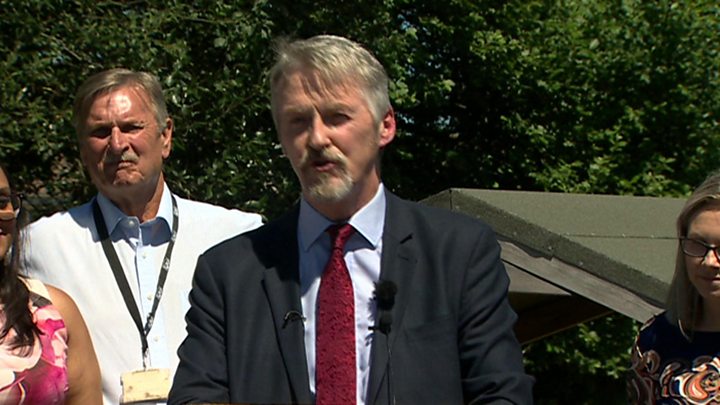 Ogmore AM Huw Irranca-Davies has launched a bid to become Labour's new leader in Wales and first minister.
He joins Mark Drakeford, Vaughan Gething and Eluned Morgan in vying to take over when Carwyn Jones steps down.
So far only Mr Drakeford has enough support from fellow Labour AMs to secure a place on the ballot paper.
Mr Irranca-Davies launched his bid with a call to create an integrated childcare and early years education service available to all across Wales.
Anyone wanting to add their name to the ballot paper needs the backing of five other AMs.
Mr Irranca-Davies - minister for children, older people and social care - told BBC Radio Wales he had not been "actively out there asking people for nominations but I will be after we launch today".
At an event in Sarn, near Bridgend, on Friday Mr Irranca-Davies called for the development of "an integrated Early Childhood Education and Care provision" which is "universally available to every child in Wales wherever they may be".
He said the current pilot schemes, offering 30 hours of childcare to children in select parts of Wales, were "only part of the longer-term vision".
Universal pre-school provision "helps address the impacts of poverty and narrows the attainment gap when children start school", he said.
'Doing the right thing'
Speaking on the Good Morning Wales programme on Friday morning, the former MP said: "The reason that I'm standing is because people have expressed an interest in nominating me and that's good - I wouldn't be doing it otherwise."
But Mr Irranca-Davies urged fellow Labour assembly members against being too hasty making further nominations.
"I do think it's very, very important that if we rush to simply locking down the process before the nominations even open [in September] then we are going to miss a great opportunity here for the Labour Party 20 years on from devolution to actually renew itself, to decide what those ideas and that vision is," he said.
He summed up his political philosophy as being about "doing the right thing and being willing to be bold and sometimes, I have to say, to challenge ourselves as well".
---
Analysis from BBC Welsh affairs editor Vaughan Roderick
While at least four AMs are eyeing up their chances of succeeding Carwyn Jones it's far from certain that everyone who wants to stand will be able to. As things stand, a candidate needs the support of six AMs (including themselves) for their name to appear on the ballot paper.
So far, only the Finance Secretary Mark Drakeford has reached that threshold although the Health Secretary Vaughan Gething is only one short. Neither Mr Irranca-Davies nor another announced candidate Eluned Morgan appear close to crossing the line.
However, with the party holding a special conference in September to review the rules of the contest, the nominations threshold could well be altered.
Mr Irranca-Davies and Ms Morgan appear to believe that if they mount effective campaigns the nominations may take care of themselves. It's a gamble that other Labour AMs are weighing up before deciding whether or not to throw their own hats into the ring.