Ex-Tory leader Davies learned about coup attempt by text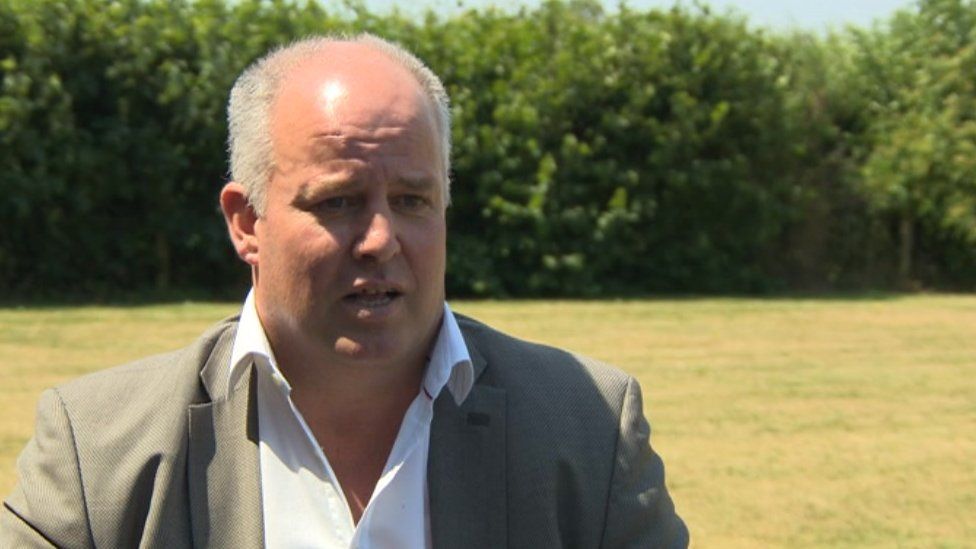 Andrew RT Davies learned about an attempt by colleagues to remove him as the Conservative leader in the Welsh Assembly when he was accidentally copied into a text 14 months ago.
Mr Davies suddenly stood down from the post last Wednesday following months of tension behind the scenes.
He had been criticised by a Tory MP days previously for comments on Brexit.
Mr Davies declined to name people in Westminster who had plotted against him.
Some supporters have urged him to run for the leadership again, but he confirmed in an interview with BBC Wales that he would not throw his hat in the ring.
Mr Davies has called for a contest to succeed him, saying the leader needs a mandate from grassroots Welsh Tory members.
He said: "Some 14 months ago I got copied into a text that I shouldn't have been copied into, which showed that there were moves afoot to try and remove me as leader.
"I think the tone of the text said about 'keeping a lid on it' or 'removing him straight away' - and that was from the other end of the M4.
"And then over the last couple of months that ratcheting up has happened with discussions with my colleagues in the Bay."
Mr Davies, group leader since 2011, said he understood why some would want a change, but added: "What I find a little bit more uncomfortable to come to terms with is the meddling from outside the assembly group when we've had such a good seven to eight months as a working force in the assembly."
Things came to a head in a series of meetings last Tuesday and Wednesday.
There had been "discussions" for eight or nine weeks prior to that, Mr Davies said, adding: "I believe that it needed lancing."
Conservative AMs met in Mr Davies's office in the assembly's Ty Hywel building at 0800 last Wednesday.
There was no vote, but Mr Davies said there was a "clear majority who said 'fine, Andrew, by all means carry on, but I do think we need to revisit this by 2021'.
"I didn't think it was tenable to continue that without the vote of confidence to take us into the 2021 election, and therefore I took the decision that I was resigning the leadership.
"Otherwise the headlines, the counter briefing, would have been 'Andrew RT hangs on by his fingertips'".
That would not have been fair on the party, his staff or his family, Mr Davies said.