Plaid Cymru's Leanne Wood rejects co-leader plan from Adam Price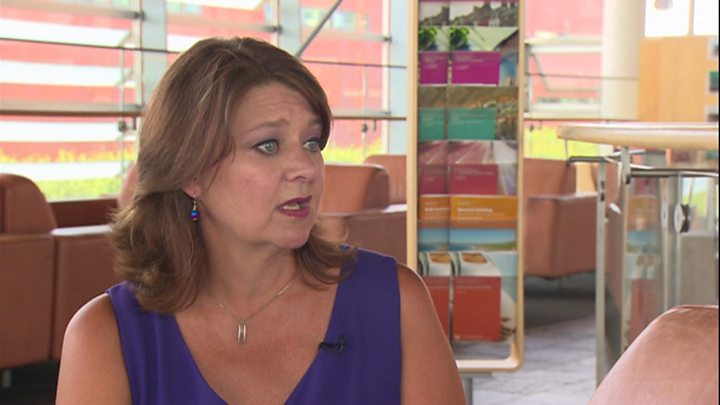 Plaid Cymru leader Leanne Wood has rejected proposals for co-leadership of her party from a potential rival for her job.
Adam Price said he would challenge Ms Wood for the leadership if she did not agree to his plan.
She told BBC Wales: "I can't see how it would work in practical terms."
Ms Wood called on potential challengers to "bring it on" and said she was "very" confident of winning any potential contest.
The party's assembly group said rank-and-file members should decide whether to adopt a system of joint leaders.
There have been calls within the party for a leadership challenge, with former Plaid leader in Westminster Elfyn Llwyd calling for a change in direction and local constituency parties calling on both Mr Price and Ynys Mon AM Rhun ap Iorwerth to stand.
Three other Plaid AMs - Llyr Gruffydd, Sian Gwenllian and Elin Jones - have signed a letter calling for a competition.
Plaid rules offer a window for a leadership challenge every two years, and the deadline is midnight Wednesday.
On Monday, in a newspaper article, Mr Price said the party had resorted to "predictable, plodding politics".
The Carmarthen East and Dinefwr AM said a male/female co-leadership was needed if Plaid was to win the 2021 election.
Ms Wood said the proposal has "some merit in some roles".
But she added: "I don't think it's for the leadership role and I don't think it's for now.
"We would have to have two elections for two leaders. There are just so many questions with it."
Ms Wood said she had no idea if she would face a challenge to her leadership.
But with potential candidates yet to announce whether they are going for the role, she added: "When people vote in a leadership election they have a myriad of things to consider.
"The ability to make a decision is one of those things I would say. Maybe that puts me in good stead in this election, if there was to be one."
'Positive platform'
The Rhondda AM, leader since 2012, said it was up to party members to decide if they were in favour of the party adopting Mr Price's proposal.
Following a Plaid assembly group meeting on Tuesday, Ms Wood said in a statement: "Wales faces huge challenges and that's why we need a Plaid Cymru government more than ever.
"I want to lead this party with a positive platform into the 2021 election and I intend to become first minister.
"I've set myself a high bar, and I'm putting my job on the line for it."
Ms Wood has said she will stand down as Plaid Cymru leader after the 2021 election if she is not first minister.
She added: "I am keen to discuss further how we can build a stronger collective leadership, and we need time to consider different options in a spirit of comradeship through the democratic processes of the party.
"The membership must decide how we move forward to achieve our goals."
A spokesperson for the Plaid group said: "Party leadership structures should always be considered for renewal and there is merit in exploring new ideas.
"However, the group agreed that such proposals are a matter for the party and its membership, rather than the assembly group."
It is understood that four of the 10 Plaid AMs were not resistant to the idea of having joint leaders when the group met on Tuesday.
Speaking before the meeting, group chair Dai Lloyd said people would understand a "conventional" campaign with a single leader, while Sian Gwenllian said the circumstances for co-leaders were not right "in this instance".
In a tweet on Monday, Simon Thomas AM called on Mr Price to either support Ms Wood or take it to a leadership contest before Wednesday's deadline.
"We tried this before and it was disastrous," the Mid and West Wales AM said of the joint leadership idea.
"Adam was one of those who helped get the leadership structure right. Either back Leanne to lead or challenge her. There's no easy route to the top."