NHS Wales: EU recruits still needed after Brexit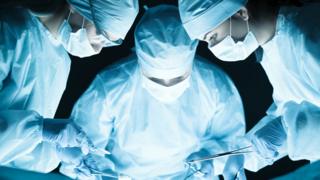 A "pipeline" of EU doctors and nurses will be needed after Brexit due to staff shortages, the group representing Welsh health bodies has warned.
The Welsh NHS Confederation said foreign staff would be required, despite domestic recruitment efforts.
Just over 2% of all NHS staff in Wales are from the European Union, according to the latest statistics.
UK ministers said they wanted to have immigration working "in the best interests of the whole of the UK".
New rules for European Union migrants are set to replace Brussels' current policy of free movement of people between the UK and the EU.
But an official policy document has been delayed, prompting Downing Street to say in April that it will be published "in the coming months".
Welsh Government Health Secretary Vaughan Gething has called for a new migration system to "link migration policy more closely to employment, so that we can recruit the doctors, nurses and other health and care workers that we need, whilst protecting them from exploitation".
In Wales, around 30% of the roughly 8,800 doctors working in the country received their training abroad, whilst around 6% of them were trained in EU countries.
Across the Welsh NHS, just over 2% of all staff are from the EU, according to the latest statistics that are recorded up until September 2016.
Vanessa Young, director of the Welsh NHS Confederation, said although the overall numbers are low, there are "particular pinch points", for example in ophthalmology or eye specialists.
"We are facing staff shortages across the NHS in Wales, across all specialties, nurses and allied health professionals," she said.
"The EU workforce that we have is very important to us and we want to both be able to retain it and also ensure that we can continue to have a pipeline of staff coming through from the EU after Brexit.
"We're working hard both to recruit people from the EU and internationally as well as increasing training numbers to increase our domestic supply but that will take a bit longer.
"So, we will always need to be recruiting doctors, nurses and allied health professionals from elsewhere."
Last month, the UK government announced it was relaxing immigration rules to allow more doctors and nurses from outside the EU into the UK.
Ms Young welcomed the decision to exclude non-EU foreign medics for the government's cap on skilled migration and called on ministers in Westminster to "ensure that we have a continuing pipeline of high calibre, skilled staff that we can recruit from the European Union".
A UK government spokesperson said: "After we leave the EU, we will have in place an immigration system which works in the best interests of the whole of the UK.
"This system will be based on evidence. The government has commissioned advice from the Migration Advisory Committee and we continue to engage with a range of stakeholders."
---
Case study - Dr Chris Subbe
Dr Subbe came from Germany to work in the NHS around 25 years ago.
Married to a woman from Anglesey, he is an acute physician at Ysbyty Gwynedd in Bangor, having moved to the area "seven years ago to be closer to my in-laws".
Dr Subbe's mother was "one of the first students who went on student exchanges in south Wales in Ebbw Vale and she was so warmly welcomed by family there".
"They stayed in touch until the mum in that family died and she always called her 'my mum in Wales'," he said.
"She made it her task to learn languages, to teach languages and make sure that these bridges that have been built across Europe are solid enough so it can never break apart again.
"That's what I've been brought up with and it's really hurt me personally that suddenly that's no longer a dominant value."
But the UK government insists people from EU countries and further afield remain welcome.
"I think emotionally it's very, very different. We are welcome as long as we've got a skill as opposed to we're welcome because we're contributing and we're one of everybody else," Dr Subbe said..
"We've definitely been downgraded."
'Nurturing'
He works with a number of international colleagues but said some European trainees "have left for that reason of the ease of working here and not being felt to be welcome."
However, he said the quality of training still made the Welsh NHS an attractive place to work.
"We're still very much focussed on nurturing our junior doctors about doing clinical medicine and being very patient focussed," he added.
"I think that's something we're probably stronger at than some other health systems."