Cut in Welsh MPs a 'dreadful mistake', warns Glyn Davies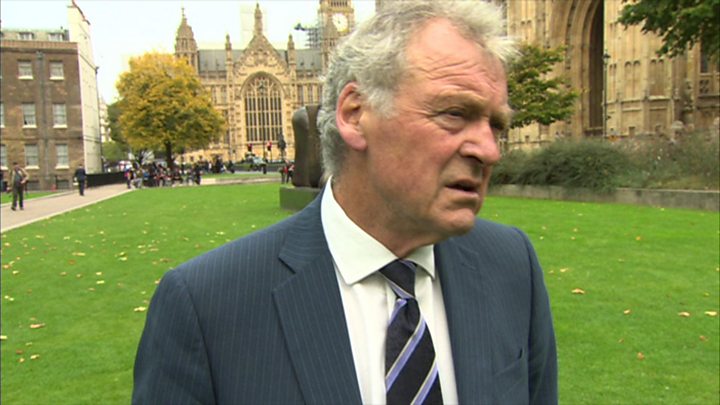 Plans to reduce the number of MPs are a "dreadful mistake", according to a Welsh member of the UK government.
Glyn Davies, a parliamentary private secretary at the Wales Office, stepped up his criticism of plans to cut the number of MPs in Wales from 40 to 29.
The move is part of an overall cut from 650 to 600 across the UK.
Mr Davies, whose Montgomeryshire constituency could disappear on the new parliamentary map, says there will be a "mega row" if the proposals go ahead.
Ministers say it would cut the cost of politics and be fairer to have seats with roughly similar numbers of voters. The final Boundary Commission proposals are expected in September.
But Mr Davies wrote on Facebook: "Personally, I think this review to be a dreadful mistake, and have made my views known to my party. Even at this late stage, I hope the government will see sense."
He added: "There is going to be a mega row over this if it's driven through."
Under the proposals, constituencies would have roughly equal numbers of voters, with a margin of plus or minus five per cent of the norm.
Mr Davies says the current number of 650 seats should be kept but with the boundaries redrawn to introduce more equal constituencies subject to a margin of 7.5 per cent.
He told BBC Wales he was concerned about the impact on the more rural parts of Britain, particularly in Wales.
He said he accepted that more equal numbers of voters would mean a cut in the number of Welsh MPs, probably from 40 to 33, even if the overall number who sit in the Commons is kept at 650.
MPs are expected to vote on the issue later this year although there has been speculation the plan could be dropped due to Conservative opposition.
As a PPS, Mr Davies would have to resign to vote against the government - or be sacked.
He would not be drawn on whether he would vote against the Conservative whip on the issue.