Tory candidate suspended after 'Islamophobic' Facebook posts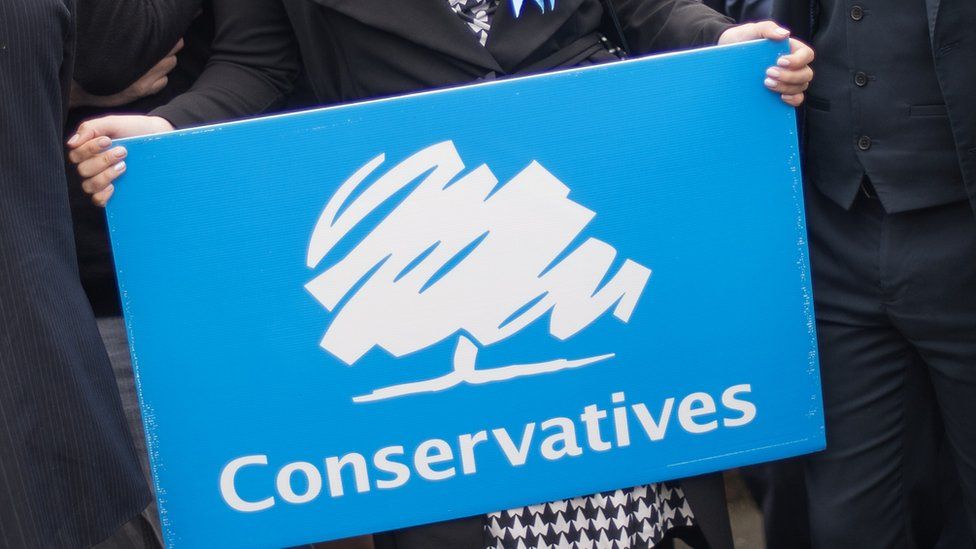 The Conservatives have suspended a council by-election candidate following "unacceptable comments" on social media.
Laurel Ellis was picked for the Gurnos ward on Merthyr Tydfil council.
She had shared posts critical of Islam and showing Theresa May in Muslim religious dress, which Labour AM Dawn Bowden claimed were Islamophobic.
Ms Ellis said she would not defend the posts and regretted comments she had made about Mrs May on Twitter.
The Conservative Party announced the suspension following inquiries from BBC Wales about the Facebook posts on Wednesday.
Despite the party saying she would not be standing for the Tories, nominations have already been published for the poll and she will still appear on the ballot.
Laurel Ellis' Facebook page included one post that suggested Britain was tolerant "until... Muslims marched".
Another, entitled "Sharia May", includes a photo-shopped picture of Theresa May wearing Muslim religious dress.
The posts originally came from other pages on Facebook.
In a Twitter post sent during the Conservative leadership campaign in 2016 which led to Mrs May becoming prime minister, Ms Ellis said: "Theresa May is a front runner really? A leader that supports Islam and is happy to have Sharia Law in our country?"
A spokesman for the Welsh Conservatives said the party seeks "to reach out to, and represent, all communities and people from all walks of life in Wales".
"The Welsh Conservatives have suspended Laurel Ellis following unacceptable comments she made on social media," the party said.
Labour AM for Merthyr Tydfil and Rhymney Dawn Bowden said prior to the suspension: "It is alarming that the Welsh Conservatives would select an official candidate with such apparently distasteful and Islamophobic views, which seems to extend to attacking the leader of her own party.
"The Welsh Conservatives clearly have questions to answer about how such a candidate has been selected."
Ms Ellis said: "I very much regret the comment I made regarding Theresa May and have done my best since joining the Conservatives to work hard towards the success of the party.
"The accusation of Islamophobia is in my mind just a word to shut down a debate. My comments were aimed solely at terrorists.
"I am not going to defend past posts I have shared, though I believe we have a great country."
Referring to Ms Bowden, she added: "I consider the Labour member has twisted my words and meaning."
The by-election was triggered after previous councillor Rhonda Braithwaite stepped down for personal reasons in May.
Labour's Allyn Hooper, and independents Dillan Singh and Jeremy Davies are also standing.
The election will be held on 26 July.