NHS 70: Tax rises needed to keep treatment free, says Jones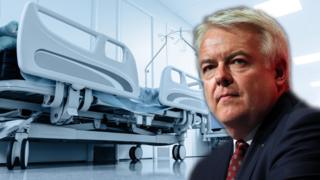 Taxes will have to rise in future to make sure the NHS remains free at the point of need, Carwyn Jones has said.
As the NHS marks 70 years, the first minister said he was in "no doubt" that people would have to pay more "to have the kind of health service we want".
Labour has pledged not to use the Welsh Government's new income tax-raising powers before the 2021 election.
But Welsh Labour ministers have suggested they are willing to look at tax rises after that.
A levy to pay for social care - similar to a new form of national insurance - is an idea being looked at by Finance Secretary Mark Drakeford, the favourite to succeed Mr Jones when he stands down in December.
Health Secretary Vaughan Gething - another leadership candidate - has also endorsed the idea, calling it a "hugely important opportunity for Wales".
Mr Jones told BBC Radio Wales: "There is no doubt the pressure on the health service is going to grow over the next few years across the whole of the UK.
"There does need to be a debate about how much money we need to find to put into it.
"There is no doubt in my mind - and others are saying the same thing now - that we will have to look at taxes being used, people paying more to continue to have the kind of health service we want."
Chancellor Philip Hammond has said taxes will rise to pay for an extra £20bn of funding that the UK government has promised the NHS in England.
The Welsh Government will get a top-up as a result. It is predicted to be around £1.37bn a year by 2023, although the actual figure could be less and will not be known for some months.
Mr Jones told the Good Morning Wales programme: "It's better financially for it to be done across the whole of the UK. Why? Because the share of the UK pot we would get is bigger than what we would reasonably raise ourself. That is the financial reality of it.
"Many of our patients access services in England. Lots of people live on the border. They access services in Shrewsbury, Hereford, Liverpool and Chester. We don't want to change that. We don't want to tell people you can only have treatment in Wales, when they can see the hospital over the border.
"It is important that the health service is properly funded across the UK because so many of our own patients use English hospitals."
Health Secretary Vaughan Gething agreed that taxes would have to go up, telling BBC Wales: "I think most members of the public are happy to pay some more tax for the health service.
"The challenge comes on whether they trust politicians to spend more on the NHS."
Finance Secretary Mark Drakeford said the first minister was "right" to raise the prospect of income tax rises "along with all the other levers that we have if we are to go on providing public services of the sort that the people in Wales need and deserve".
"I absolutely agree that on these matters it is better to have UK-wide solutions ... but equally we do have levers in our own hands," he said.
Health economist Prof Ceri Phillips from Swansea University has claimed the NHS will consume 66% of the Welsh budget by 2048 - up from the current 49% - if demand increases as expected.