Arriva Trains Wales blames weather for complaints rise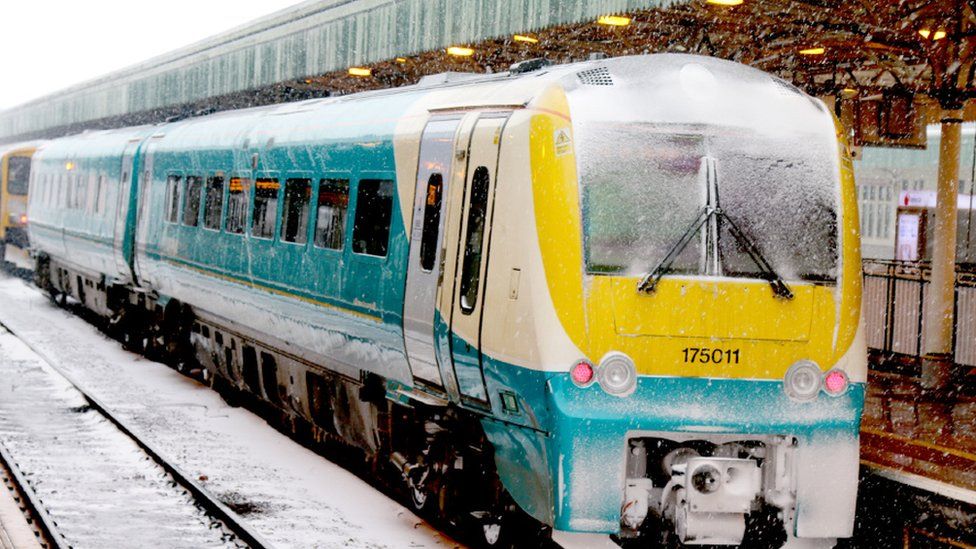 Complaints about Wales' main railway operator have risen by almost 30% in a year, according to figures.
A total of 66 complaints were made for every 100,000 journeys taken on Arriva Trains Wales - the sixth most complained about train operator in Great Britain.
Punctuality and overcrowding were the most common reasons for complaints.
Arriva said the increase was largely due to cancellations caused by extreme weather.
The firm's Wales and Borders franchise ends in the autumn.
The firm was the worst among Britain's train operators in answering complaints within the industry-standard 20 day window.
It only addressed 76% within that timeframe - an improvement on 2016-17 when it answered 64% of complaints within 20 days.
Punctuality was the most common cause for complaint - at 34.7% of the total - although this was 10.5 percentage points (pp) lower than the year before.
Official punctuality figures indicated that 92.2% of trains were "on time" - a slight rise of 0.4 pp from the year before.
Complaints about the amount of room on trains came second at 12% - a 2.5 pp increase.
Bruce Williamson of campaign group Railfuture said: "It's disappointing when customer service is not up to scratch.
"With some of the problems we've been experiencing on the railway the train operating companies can, with some legitimacy, pass the buck and say it's someone else's fault.
"But when it comes to basic customer service, like replying to complaints, that's totally within Arriva's hands and there's no excuse for that."
He added: "Undoubtedly overcrowding is a problem pretty much across the network. There is still a shortage of rolling stock - and to some extent that is out of Arriva's hands because they are allocated rolling stock by the Department for Transport."
Head of customer experience at Arriva Trains Wales, Barry Lloyd, pointed to statistics that suggested the firm was third in the UK for customer satisfaction with the outcome of complaints, and said it was seventh for praise received.
The operator received three praise comments for every 100,000 journeys - while a survey indicated 43% of Arriva passengers were happy with the outcome of their complaint.
Mr Lloyd said the most recent National Rail Passenger Survey (NPRS) said 80% were happy with punctuality and 70% with the level of crowding. He said Arriva's customer relations teams met their response rate target for 10 out of 13 periods last year.
He said: "While the volume of complaints has increased, this is largely down to the extreme weather we experienced in the autumn and at the start of the year which led to unprecedented numbers of cancellations.
"We acknowledge that trains are becoming busier as passenger numbers continue to grow massively from 18 million in 2003 to 33.5 million last year, while it has been well documented that there is a lack of available diesel rolling stock in the UK at present.
"We are doing all we can to improve this situation with our partners in Welsh Government moving towards the end of the franchise."
Arriva's franchise ends in October, when KeolisAmey will take over under a contract awarded by the Welsh Government.
It is promised that 95% of journeys will be on 148 brand new trains by 2023.
The figures do not include complaints on social media.