Children's physical activity gets poor marks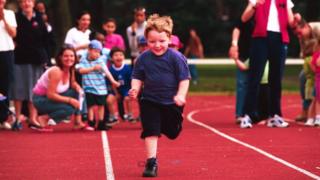 Parents need to play more with their toddlers to tackle a "worrying" decline in physical activity as children reach their teens, an academic has said.
A report gave Wales' 11 to 16-year-olds an F - the lowest grade available - for spending too long sitting down.
The Swansea University team warned of a knock-on effect on school grades.
Health Secretary Vaughan Gething said the Welsh Government had already taken action to improve the situation and aimed to do more.
The Active Healthy Kids report card for 2018 says 80% of 11 to 16-year-olds spent at least two hours of their daily free time sitting down - for example to watch TV, play games or because they were travelling in cars. The figure rose to 87% at weekends.
It awarded a D+ grade for overall physical activity and a D+ for active transport - 44% of primary school and 33% of secondary school pupils walk or cycle to school.
The Welsh Government was given a C+ with the report saying some of its policies were "dated".
This is the third report card since 2014. It is part of an attempt to track how active children are in 52 countries.
Prof Gareth Stratton, who leads the project, said the results for Wales were "going in the wrong direction".
"With the exception of one indicator, everything is getting worse," he said.
"So we are really quite worried about this because physical activity is related to lots of things, including how well children achieve at school."
He added: "We don't have the right investment in the early years, play in particular - we need nursery teachers and play leaders to spend more time with their children.
"We need to educate and help parents play with their children both inside and outside and we need a strong skillset in primary schools where teachers feel confident in covering the full range of physical literacy and promoting physical education for children."
It is too soon to compare the data with other countries, but in 2016 Wales's results were similar to most of Europe.
The study used the "best available data" to reveal trends in activity levels, but Prof Stratton said: "We do need to invest in much, much better measurements than we have right now".
Health Secretary Vaughan Gething told BBC Wales: "We have real challenges about how we have a more active nation and in particular how children have a more active lifestyle.
"We have some opportunity to do that in a school setting, but more broadly actually we need to have that more difficult but necessary public conversation about what we are doing to the future health of the nation."
Mr Gething pointed to the government's support for the Daily Mile - a UK-wide scheme where primary school children are encouraged run or walk for 15 minutes every day.
Money had been earmarked in the budget to promote active travel - cycling and walking - he added.