Watchdog investigation into spend on unopened UKIP AM's office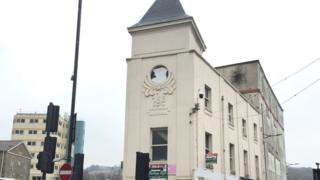 The assembly standards watchdog is investigating the spending of almost £10,000 of public money on a UKIP AM's constituency office in Pontypridd that never opened, BBC Wales understands.
UKIP group leadership candidate Gareth Bennett had to pay thousands of his own cash to get out of the office lease.
Standards commissioner Sir Roderick Evans is now looking into the project.
The South Wales Central AM confirmed an inquiry was underway and said he pulled out of the deal following legal advice.
The probe follows a referral to the commissioner by Manon Antoniazzi, chief executive of the National Assembly for Wales, who is required to do so if she believes there are grounds to investigate whether or not that the use of public money has contravened the AMs' code of conduct.
Mr Bennett signed a lease on a property at the former Angharad's nightclub on Pontypridd's High Street on 24 March 2017.
BBC Wales reported in April that Mr Bennett had spent almost £10,000 of taxpayers money in rent and other costs on the office.
Costs included £5,128 in rent, at least £1,556 in legal expenses and £2,476 on building materials.
Mr Bennett's spokesman previously said that the AM's team was unable to move in after water got into the building.
The spokesman said the landlord refused to undertake any repairs, stating it was the tenant's responsibility.
"Gareth ended up paying £4,500 out of his own pocket to ensure the lease was terminated," the spokesman had said.
Mr Bennett is a member of the standards committee, which makes recommendations to the assembly for sanctions against AMs following standards commissioner investigations.
'Save public money'
In response to a query from BBC Wales regarding the investigation, Mr Bennett said: "As you are aware, this 'story' has already been run, and little has changed since you ran your last piece.
"There were problems with the lease on my proposed constituency office, and I was given strong legal advice to pull out of the deal.
"I did this to save public money", he said.
"The inquiry into this matter is still continuing and, of course, I am fully cooperating with it."
Mr Bennett added: "I run my constituency office from the assembly. If you visit my office, most days you will find that there are four of us working in there, one of whom is a dedicated constituency liaison officer/caseworker."
BBC Wales has been unable to contact the landlord involved.