FM Carwyn Jones calls for woman Labour leadership candidate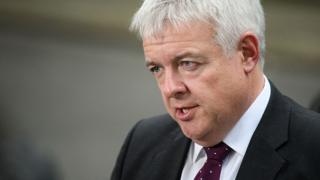 It would be very difficult for Welsh Labour if there is no female candidate in the election to appoint the party's next leader, First Minister Carwyn Jones has said.
Members are due to elect Mr Jones's successor this autumn.
So far only one woman - Eluned Morgan - has said she would like the role, but she is yet to gain any nominees from AMs.
Mr Jones said it "would not look good" if there is no woman on the ballot.
Meanwhile the most senior Labour council leader in Wales, Debbie Wilcox, has backed Ms Morgan for the job.
"It would look very difficult for us as a party if all the candidates were men," Mr Jones said.
"I express no preference and I never will on who should be the next leader of Welsh Labour but I think it would be very very difficult for us to be in that position.
He added: "It's not something I can control. I won't be nominating anybody, but it would not look good given the fact that we have an ambition to strive for greater equality."
In an article for the Fabian Society in Wales, Welsh Local Government Association and Newport council leader Ms Wilcox said: "It's been 100 years since some women got the vote. The Suffragettes fought hard for our rights.
"In 2018, our Carwyn [Jones] honoured this by calling for a feminist government.
"It's a bit rich then that our same government is now running the risk of not even having a woman on the ballot for the election of our leader!"
"If we want a feminist government, equality, and diverse representation, it isn't enough to only have men on the ballot
"As this is not possible under the current rules of the competition, the competition needs to change. We need a woman on the ballot and Eluned Morgan is it."
Calling for AMs to nominate Ms Morgan, she added: "In the Lords, the EU Parliament, and in the Assembly, Eluned has proved herself to be an ally time and time again - not just an ally to women but to all under-represented communities."
Candidates for the Welsh Labour leadership need five other AMs to support them. Currently only one AM - Mark Drakeford - has enough with 12 backers.
Vaughan Gething is one AM short with four supporters. Huw Irranca Davies has also announced his intention to stand but, like Ms Morgan, has no AMs supporting him currently.
The deadline for nominations has not yet been announced.