MP Jo Stevens rejects 'malicious' claim over Commons pass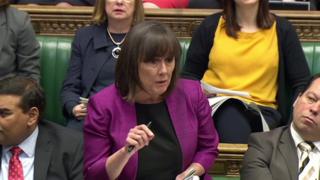 A Welsh Labour MP has rejected criticism of her decision to sponsor a House of Commons pass for a senior official from a union that helped fund her election campaign.
Jo Stevens' aide called any "cash for access" claim "malicious and false".
The Cardiff Central MP has sponsored a parliamentary pass for Andrew Towers, head of political strategy for the Communication Workers Union.
The union gave £4,000 towards her general election campaign last year.
Parliamentary rules say that MPs should sponsor passes for staff "who are employed in roles that directly support their parliamentary work".
"Members should not sponsor a pass on behalf of any other individual or organisation to allow access onto and around the parliamentary estate."
The former chair of the committee on standards in public life, Sir Alistair Graham, told the Sunday Telegraph that the practice of Labour MPs sponsoring passes for unions who donated to their election campaigns was unacceptable.
But a spokesperson for Ms Stevens said: "Andrew Towers carries out a key role as an unpaid adviser on workplace issues, employment rights and the postal and telecoms sector to Jo Stevens MP, all issues which affect her constituents every day.
"The pass was issued by the parliamentary authorities in accordance with their rules. Any 'cash for access' suggestion is both malicious and false."
Under the rules, MPs are required to "declare that the applicant is to be employed to meet a genuine need and personal assistance in supporting my parliamentary duties".
The pass can only be used for one of these roles: researcher, secretary, intern, party official, chauffeur, carer of work experience.
The office of the standards commissioner, who investigates complaints about MPs' behaviour, said no complaints had been received about MPs sponsoring passes for officials from unions which donate to their election campaigns.