£60m fund for new and revamped nurseries launched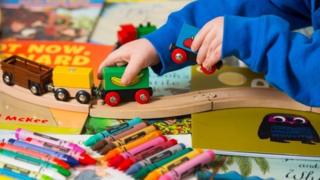 A £60m fund to set up new nurseries across Wales, or refurbish existing ones, is being launched.
It is part of Welsh Labour ministers' pledge to provide 30 hours a week free childcare for working parents of three and four-year-olds.
The money will be available to local authorities and private providers over the next three years.
Children's minister Huw Irranca-Davies said the cash would help make the scheme as easy as possible to access.
There will be a particular focus on developing childcare services in areas that are lacking them, especially in rural and poorer areas.
The free childcare policy was one of Labour's flagship manifesto commitments at the 2016 assembly election.
Since September 2017, it has been piloted in seven areas - Swansea, Rhondda Cynon Taf, Caerphilly, Blaenau Gwent, Flintshire, Gwynedd and Anglesey. The Welsh Government plans to extend it to all of Wales by 2020.
Mr Irranca-Davies said: "This will not only ensure their children are given the very best start in life, but it will go a long way to help reducing the strain on family income and helping ensure childcare is not a barrier to them taking up employment or increasing their hours.
"This investment will help ensure the 30 hours offer is as clear and easy as possible for working parents to understand and children to access.
"As part of this, we need to enable parents, wherever possible, to be able to drop off their children and pick them up from the same site and access a seamless 30 hours of childcare, although wrap around provision will continue to be an important part of the answer for some children and parents."
In May it emerged the number of parents taking advantage of the free childcare offer was lower than had been expected.
A lack of uptake saw councils spend just £3.4m of the £10m allocated to them in 2017-18.
The Welsh Government said at the time that take-up was continuing to grow.