Radical re-think for public services needed, says watchdog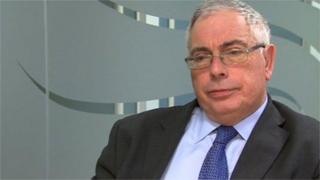 Public bodies need to think radically about how their services are delivered, Wales' spending watchdog has said.
Auditor general Huw Vaughan Thomas said Welsh public services could be reforming for the better but have not responded to austerity beyond cutting costs.
Funding for public services has been cut by 10.5% in real-terms since 2010.
Mr Vaughan Thomas said he was "frustrated" that devolution had not led to a fundamental rethink.
He made the comments in a letter to the Public Accounts Committee ahead of his retirement on Friday.
The auditor general said the biggest challenge faced by public bodies in Wales had been the need to grapple with austerity - particularly in health and social care.
He said part of the response across the Welsh public service to pressures generated by austerity had been "an increased focus on driving efficiency improvements in service delivery".
But there comes a point where gains start to diminish, he said, unless the amount or quality of service delivery is reduced - something which may impact more on those who are most vulnerable.
"Public services in Wales therefore need to think more radically about how services are delivered, with a focus on outcomes rather than structures," he said.
He went on to say that a "cohesive response to austerity and rising demand" that "goes beyond the tactics of economy and efficiency" was "conspicuously absent so far across the Welsh public service".
There are "real opportunities" to reshape and re-design services "in ways which enable genuine transformation", he said.
"While some reforms of public bodies have delivered, too many have simply repackaged the existing problems and people within new sets of organisational boundaries."
The Williams Commission proposed a raft of reforms for the public sector - although its key recommendations for fewer local councils have not come to fruition.
Mr Vaughan Thomas said this and other reports "clearly set out the nature of the systemic problems that need to be fixed".
"But I find myself both frustrated and increasingly concerned that the many clarion calls for action that Wales has heard over the last decade or so have not yet generated the tangible changes that are now urgently needed, and that we have not used devolution as an opportunity for fundamental rethinks," he added.
There are examples of well-intentioned change, he said, such as the creation of regional educational consortia to co-ordinate services across council areas.
But even these present an added complexity, as the 22 councils still have their responsibility for the services provided.
"I would add that I find it remarkable that our education services are delivered separately by 22 unitary authorities serving a population of 3.1m people whereas, for example Kent County Council delivers those same services to a population of 1.5m people."
Mr Vaughan Thomas will be speaking to Assembly Members on the committee later on Monday.