EU must help avoid 'catastrophic Brexit no-deal', says Jones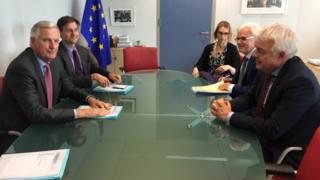 The European Union must show "flexibility" in the Brexit talks to avoid a "catastrophic" no-deal scenario, the first minister has said.
Carwyn Jones said an agreement could be reached by "stepping over" red lines.
He was speaking ahead of a meeting in Brussels on Monday with the EU's chief negotiator Michel Barnier.
The first minister also described the UK's Brexit plan, published last week, as a "vaguely credible" negotiating position.
During his visit Mr Jones will give a speech in which he is expected to reflect on Theresa May's White Paper and discuss how both sides can work together to secure a Brexit deal before the UK leaves the EU in March 2019.
The prime minister has committed to leaving the EU's single market and customs union, but proposes a post-Brexit "common rule book" for the trading of goods but not services.
The paper also proposes a new customs arrangement with Brussels, whereby the UK would collect tariffs on behalf of the EU for goods ultimately going there.
Two members of the cabinet - Boris Johnson and David Davis - have resigned in protest at the plan, as Eurosceptic Tories claim it sticks too closely to EU rules and regulations.
Mr Jones has welcomed the proposals as coming closer to the Welsh Government's preference for a close trading relationship.
"While the prime minister refuses to admit that her ill-judged red lines are a thing of the past, she has - at long last - set out a vaguely credible negotiating position," he said.
"The UK government white paper advocates partial participation in the Single Market and continued participation in a Customs Union by any other name.
"There are many flaws in the proposals and far too many questions remain unanswered.
"However, I believe it is a basis on which more serious negotiations can now start."
---
Analysis by James Williams, BBC Wales Brexit correspondent
Last month, Carwyn Jones gave a speech in London aimed at the prime minister - change tack or the UK faces the "very real possibility of a catastrophic no-deal Brexit", he said.
Today, he's still warning about the possibility of the UK and the EU failing to reach a deal, but now he's calling on officials in Brussels to blur their negotiating 'red lines'.
Although far from lavishing praise on the UK government's new Brexit plan, it's an interesting change of emphasis from a first minister who has to date exclusively fired his rhetorical arrows towards Downing Street.
Why the change? Well, with just eight months to go until the official Brexit day on 29 March 2019 and still some pretty major hurdles to clear in the negotiations, there is genuine concern amongst Welsh Government officials about a 'no-deal' Brexit.
Given the pressure Theresa May has been under from her own Tory MPs since reaching the Chequers agreement, she'll be sure to welcome the unlikeliest of helping hands from a Welsh Labour first minister.
---
In his initial response to the white paper, Mr Barnier said he would "analyse the proposals".
However Brussels has repeatedly said the UK cannot "cherry-pick" its way out of the EU.
In response to that, Mr Jones urged the other 27 EU member states to "show an element of flexibility to avoid the catastrophic 'no deal' scenario".
"By stepping over the red lines and working together I believe we can reach an agreement that provides the basis for a long-term economic relationship."