Stop fussing over Tory leader status, says MP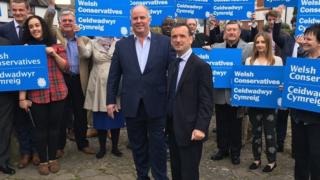 Conservatives should stop "fussing" about who is in charge of the party in Wales, an MP has said.
Monmouth MP David Davies - a former assembly member - said debating the leader's status was a "distraction".
Nominations closed on Monday in the election to succeed Andrew RT Davies as leader of the Tories in the assembly.
Both candidates - Paul Davies and Suzy Davies - have said the post-holder should also lead the party outright in Wales.
After standing down, Andrew RT Davies said it was "completely farcical" that the person who leads the Conservatives in the Senedd - the party's candidate to be first minister - "does not have the ability to be the leader of the Welsh Conservative party".
But in private, senior Tory figures play down the idea.
Sources fear it could lead to the Welsh party becoming more reliant on the funding it raises in Wales.
Technically there is no such job as Welsh Tory leader, even though Andrew RT Davies was often referred to as such.
The party has made clear that members are electing a leader of the Welsh Conservative group in the National Assembly.
That is different from Plaid Cymru and - following recent rule changes - Welsh Labour, where the leader in the assembly is formally the party's leader across Wales.
David Davies, chairman of the Commons' Welsh Affairs Committee, is backing Paul Davies.
He told BBC Wales said there had been a "contest" between the Wales Office and the assembly over who was in charge of the Welsh Tories.
"The group leader and Secretary of State have important leadership roles within the Welsh Conservative party," he said.
"I don't want to get particular about which one is more senior, which one is in charge - it doesn't matter.
"Nobody is going to take direct orders. Let's just stop fussing about who is in overall charge and which one has got the most stripes on their arms."
The status of the leader risked becoming a "distraction from the job of holding Labour to account", the Monmouth MP added.
Both the Welsh Secretary and the assembly leader had "huge opportunities" to set the agenda in the media and at party conferences, he said.
"This is not the fire service or police or the army. It doesn't work like that.
"I think there has been an unnecessary eagerness to try to work out who is in command and who is at the top of the pile."
The Conservatives confirmed Paul Davies and Suzy Davies as the two contenders as nominations for the leadership contest closed on Monday.
Welsh Conservative chairman Byron Davies said: "I am sure they would both make excellent group leaders with the essential skills needed to take our party forward as the only credible alternative to Labour in Wales."
Votes will be counted and the winner declared on 6 September.