Elderly patients left anxious over hospital transport delays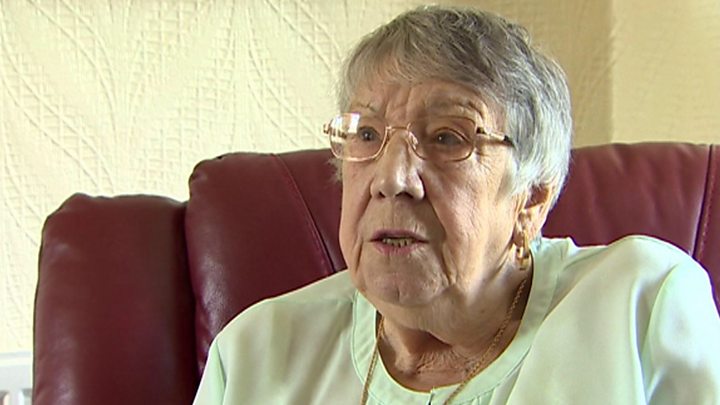 An 80-year-old woman who waited four hours for an ambulance to take her to a hospital appointment has said she is fed up of "hanging around" for the service.
Phyllis Preece, from Cardiff, missed the appointment and now pays for taxis to avoid the worry.
She shared her story as a charity said some elderly people were left anxious due to patient transport delays.
The Welsh Ambulance Service Trust said it was working to improve matters.
It provides most non-emergency patient transport in Wales, carrying about 2,500 patients every day to and from clinics, hospitals and day centres.
Mrs Preece started using the service after her husband died.
"Two months ago I was ready at 7:30 [in the morning]. 8:50, nothing - nobody turned up," she told the BBC's Sunday Politics Wales programme.
"My appointment was at 10:20 and I was still phoning the ambulance service and the hospital to let them know why I was late.
"They turned up at 11:50. Then I thought it was straight through to the hospital.
"But they had to pick up somebody else, and when we got to this other person's address, we waited about 10 minutes to discover the other lady had gone earlier in a taxi, because she was late."
Mrs Preece said this was a common experience and she now pays for taxis to and from hospital.
"I find it quite expensive but then, on the other hand, I'd rather pay that, than going through the experiences of hanging around and just waiting."
Age Cymru chief executive Victoria Lloyd said the situation caused "anxiety for people, particularly people who may be suffering incontinence issues if they are out of the house for a long time and the travel time is long".
The charity said many patients were seeking alternative transport and were even discouraged from making appointments.
"We'd like to see an improvement in the booking system that puts the patient at the heart of the transport system, so that people get appropriate journey times, they're not taken round the houses so they don't arrive anxious and in more pain than when they started out," Ms Lloyd said.
In 2016, the Welsh Government announced it was expanding the service available and introducing a new national commissioning quality and delivery framework.
In January, a report from the Board of Community Health Councils - the independent watchdog of NHS services in Wales - highlighted concerns from patients using the service and said they had spoken to individuals who said they were routinely late for the appointments.
Board joint chief executive Clare Jenkins said the key was having "the different parts of the NHS working together, and about thinking about the patient's pathway in the round and not just about the appointment and the transport separately".
Nick Smith, deputy director of non-emergency patient transport for the Welsh Ambulance Service Trust, said regular patient surveys showed most users had good experiences overall.
But he said action was being taken to improve access to the service and information about how it works.
"Patients have different needs, patients are picked up at different locations and go to different locations as well so, logistically, it is very difficult to get people from area to area," he said.
"We will be working with other partners to make sure that we're able to have the right vehicles at the right places at the right times to get patients to and from hospitals."
A Welsh Government spokesperson added: "We expect the Emergency Ambulance Service Committee and the Welsh Ambulance Service to drive forward the further improvements that are required.
"We are also developing a new framework for non-emergency transport to deliver benefits for patients."
Sunday Politics Wales is on BBC One Wales on Sunday, 15 July at 1100 BST.