UKIP AM Neil Hamilton blocked from Senedd job again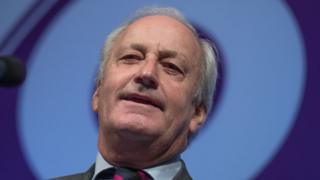 UKIP AM Neil Hamilton has been blocked from an influential job in the Senedd for the second time.
Senior AMs felt there was "no point" nominating him for an assembly commissioner role, given he was likely to be rejected again.
A majority of AMs voted against Mr Hamilton getting the paid job last time he was nominated in June.
Mr Hamilton said he had not lobbied AMs given the impending assembly leadership contest.
UKIP is in the midst of a campaign for the helm of the assembly group, in which Mr Hamilton is a candidate. It is keeping its place on the assembly commission until that is resolved.
The AM for Mid and West Wales was initially nominated for the role of assembly commissioner by his party's AMs after Caroline Jones deposed him from his old job as assembly group leader in May.
There are meant to be four assembly commissioners - one nominated by each party. Ms Jones previously held the role for her party.
A total of 31 AMs - who were largely from Plaid Cymru and Labour - rejected Mr Hamilton's original nomination when it came to a vote.
He was criticised for being unsuitable for the commission after he abstained on a proposed interim harassment policy that most of the assembly had backed.
Despite that decision, and running for the UKIP leadership, Mr Hamilton vowed to go for the commissioner role again.
"This is a UKIP place [on the commission] - we're not prepared to allow the Labour Party and Plaid Cymru to determine who the UKIP representative is," he had told BBC Wales a month ago.
After a delay, last Tuesday UKIP AM Gareth Bennett brought the matter to business committee, where he sits as a member.
Minutes of the committee - which determines assembly business - showed members agreed there was no point in the committee tabling such a motion.
It said AMs "indicated that they had no reason to think their members would vote any differently".
Presiding officer Elin Jones asked UKIP to reflect on the discussion and whether an alternative UKIP AM could be brought forward.
There had been a proposal for Caroline Jones to do the job voluntarily, but sources indicated the group could not agree on the idea and that the party would leave the post empty for the moment until the leadership election is complete.
Commissioners earn an extra £13,578 on top of the basic backbench AMs' salary of £66,847, bringing their total pay to £80,425.
'I am the preferred nominee'
Mr Hamilton said he had not lobbied Labour and Plaid AMs to change their minds, given there was "no point in doing that until we know the outcome of the leadership election".
"But the policy of the UKIP group is that I am the preferred nominee, other parties should not interfere in our choice," he said.
"It's a bad principle generally."
He said the decision by business committee was "wrong", and there should have been another Senedd debate about the matter and around his concerns about the dignity and respect harassment policy.
However said he was not against the policy as a whole. "I am not in favour of harassment, sexual or otherwise", he said.