Welsh Labour leader election should be OMOV, Unite union says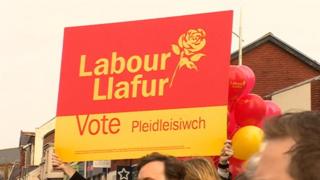 Wales' biggest union has said all Welsh Labour Party members should have an equal vote in electing their leader.
Labour is reviewing the rules before Carwyn Jones steps down in December.
There was a backlash last year when party bosses decided to stick with an electoral college which gives greater weight to unions and politicians.
The union Unite said Welsh Labour should adopt the same one-member-one-vote system (OMOV) that was used when Jeremy Corbyn was elected UK leader.
Unite Wales Deputy Secretary Gareth Jones said: "OMOV is the fairest and clearest system available which best reflects the views of ordinary party members and affiliated trade union members.
"Supporting OMOV does not mean that Unite intends to step back from its involvement within the Welsh Labour Party.
"The trade unions founded the Labour Party and Unite intends to continue playing a very prominent role."
Pointing to the "dark shadow" of Brexit, Mr Jones said: "Strong, effective leadership within our party is more important now than ever before.
"Our leaders need to know that they carry the full confidence of the party they lead."
There has been criticism of the fairness of the electoral college system of election, under which Carolyn Harris beat Julie Morgan to the Welsh Labour deputy leadership despite Mrs Morgan having the majority of votes of grassroots members.