Welsh Labour leader needs 'courage to be different'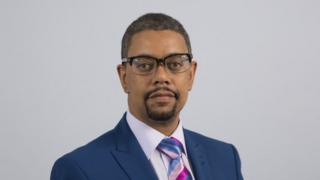 Welsh Labour cannot fight the next assembly election offering "more of the same", one of the party's leadership candidates has warned.
Vaughan Gething said the party should acknowledge shortcomings and inspire voters before the poll in 2021.
His assertion the "next generation of political leadership" needs "courage to be different" draws a distinction with frontrunner Mark Drakeford.
Mr Drakeford has said he will act as a "bridge" to a new generation.
Mr Drakeford, Welsh Government finance secretary, has said he would stand down as leader midway through the next assembly term.
Setting out his case to succeed Carwyn Jones in December, Health Secretary Mr Gething said he was proud of what had been achieved in two decades of devolution, "but I also know that just offering more of the same isn't good enough".
"The next generation of political leadership will require the courage to be different, build on successes while acknowledging shortcomings, to shape a future that works for Wales, and Welsh Labour," he said.
He called on the Welsh Government to do more to stop poverty being passed from one generation to the next.
"Action in this area will be the defining mission of our government if I am elected," he said in an article for the left-of-centre Fabian Society.
An inter-generational poverty commission chaired by a new minister would work on new policies for the next manifesto, Mr Gething said.
Councils, the NHS and the government should make sure they get "not just the lowest price but the greatest social value for the people of Wales" when they buy goods and services.
Labour has set up a fair work commission, to look at protecting workers' rights.
But Mr Gething said he would go further in making "good work" a priority, working with unions and businesses to improve productivity.