Plaid could join 'national unity' government, says Tory MP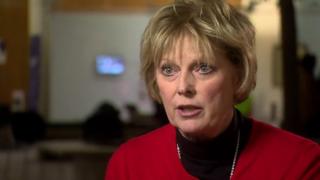 A pro-European Conservative MP has suggested Plaid Cymru could help form a "government of national unity".
Anna Soubry was one of 12 Tories who rebelled against Theresa May on Brexit.
She suggested Plaid's four MPs could join the SNP and Labour backbenchers in a cross-party administration.
Plaid Cymru, who have rejected deals with the Conservatives in the Welsh Assembly, said if stopping a "hard Brexit" required them to enter an all-party government "so be it".
Ms Soubry told Today on BBC Radio 4 that she supported Theresa May's leadership and it would be "the stuff of complete madness" to have a leadership contest.
"Problem is, I don't think that she's in charge any more. I've no doubt [Brexit-supporting] Jacob Rees-Mogg is running our country."
She said Britain needed a government of national unity.
"I personally would abandon the Labour frontbench and I would reach beyond it and I would encompass Plaid Cymru, the SNP and other sensible, pragmatic people who believe in putting this country's interests first and foremost," she said.
Plaid Cymru MP Jonathan Edwards said: "Plaid Cymru has worked, and will continue to work with sensible politicians from across all parties to defeat this hard-Brexit.
"We have consistently voted to protect people's jobs, wages and standard of living by maintaining our place in the single market and the customs union, but if making it happen requires entering into an all-party government, so be it."
Mr Edwards said the British government was "in a state of complete chaos and paralysis".
He added: "In the last few days, the prime minister has reneged on promises made to the European Union in terms of the 'Irish backstop' and supported amendments which have undermined her own Brexit white paper, published only last week.
"She has been defeated by the right-wing ERG [European Research Group] of her own party, and by the pro-European wing of her party in separate votes, and only survived yesterday's crucial vote on future customs arrangements with the help of Labour MPs."
'Hollow threats'
Mr Edwards said there was no point in holding another general election as Labour "shares the exact same Brexit policy as the Tories".
"We are not prepared to allow Theresa May and Jeremy Corbyn's internal party interests to come before the Welsh national interest. The future of our country, our economy and standards of living for our citizens is far too important."
Ms Soubry criticised the "hollow and rather ridiculous threats" made by government whips ahead of last night's Brexit votes. Potential rebels were warned that opposing the government could lead to a general election and a Labour government.
She re-iterated her support for Theresa May. "It would be the stuff of complete madness for us to have a leadership contest at this, the most difficult our country's history since the Second World War."