14-day Senedd suspension for Labour AM over breath test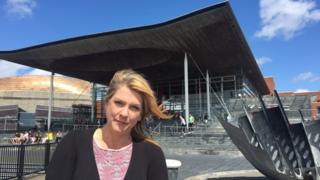 A Labour AM who failed to take a breath test has been suspended from the assembly for a fortnight.
Rhianon Passmore was banned from driving by Newport magistrates on 12 February, after admitting failing to provide a specimen for analysis.
The assembly standards committee recommendation to exclude her for 14 days was accepted without objections in the Senedd chamber.
Ms Passmore was absent from the chamber.
Her suspension starts after the summer recess on September 17.
In a statement read on her behalf by cabinet minister Julie James, Ms Passmore apologised for her conduct, for being absent and said she accepted responsibility for her actions.
"I want to recognise the humanity that has been shown to me in private correspondence from members across the chamber and from journalists who scrutinise our work," she said.
"I will ensure that the issues in my private life are tackled and I remain committed to passionately serving the constituents I am honoured to represent to the best of my ability."
She said she would work "to the best of my ability every day" to regain people's trust.