Assembly speeches could be heard entirely in Welsh
By Alun Jones
BBC Wales Political Unit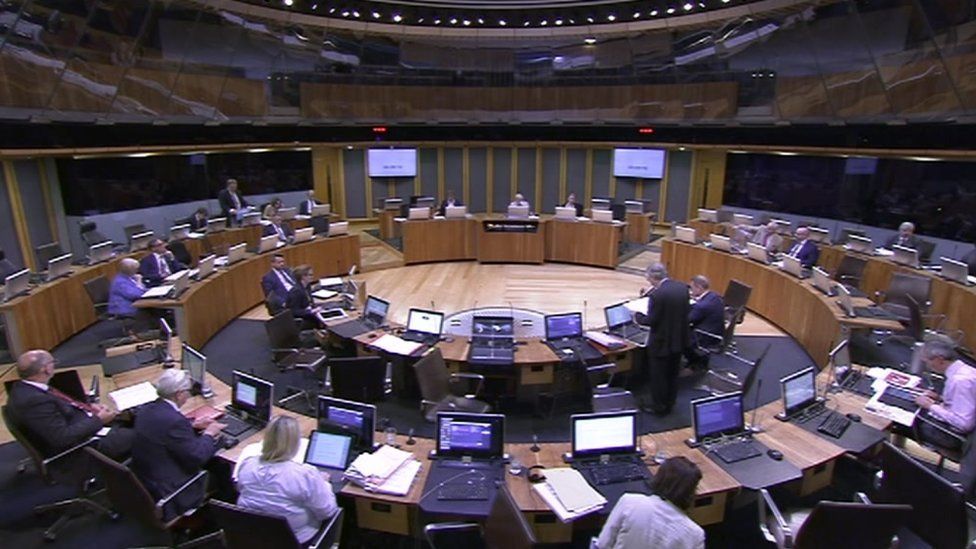 The Welsh Assembly's proceedings may be translated instantly into Welsh, the body that runs the institution has said.
The Assembly Commission's current policy is to provide Welsh to English translation only.
A spokesman told BBC Wales it was considering the "feasibility" of extending the policy.
According to data for 2017-18, 20% of the words used in the assembly chamber are Welsh and 8% in committee meetings.
An assembly spokesman said: "As part of our ongoing work to ensure that we facilitate bilingual working and provide bilingual services of the highest quality, we have been considering the feasibility of providing simultaneous translation into Welsh.
"A decision has yet to be made in relation to changing the current provision."
Proposals will be considered by Adam Price, the Assembly Commissioner responsible for the Official Languages Scheme, including changes in processes and staffing levels, and training needs.
Plaid Cymru AM Mr Price told the assembly on Wednesday that "the commission has set the aim of being an institution that's known for providing excellent bilingual services that are innovative, and to be a body that's an example for other bodies in Wales and beyond".
The assembly's written record of proceedings in the Senedd chamber is completely bilingual, while committee transcripts include the Welsh to English interpretation broadcast during the meeting, but English contributions are not translated into Welsh. ​