Woman on Welsh Labour leadership ballot 'unlikely'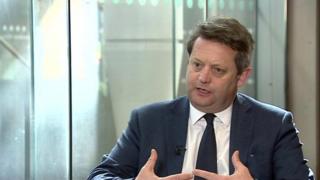 It is "increasingly unlikely" that a woman will be on the Welsh Labour leadership contest ballot paper, according to a senior cabinet minister.
Local government secretary Alun Davies said that, unless the current position changes, such an outcome will reflect poorly on the party.
Only one woman, Eluned Morgan, has announced a bid for the contest.
But she needs at least five AMs to nominate her before she can become a candidate, and none have.
Only Mark Drakeford, the finance secretary, has secured enough support to be guaranteed a place in the race, with 12 AMs backing him.
Vaughan Gething is in the running but is one AM short, with four backers. Huw Irranca-Davies also wants to stand, but like Ms Morgan has not secured the support he would need.
The contest was triggered after First Minister Carwyn Jones announced plans to stand down earlier this year - whoever wins will replace him at the top of Welsh Government.
Writing on his blog Mr Davies said it was "clearly unacceptable for Welsh Labour to polish up its credentials as a party which has led the way on equality to hold its only leadership election in a decade without a woman on the ballot paper".
He said that "unless the current position changes then this is becoming increasingly unlikely".
"And this will reflect poorly on Welsh Labour and our sense of priorities. It would be well for all members of the National Assembly Labour Party to reflect further on this," he said.
'Ten-year stretch'
Mr Davies said he could think of "no-one" in the Cardiff Bay Labour group who wants to see another "long ten-year stretch" for a first minister.
Rhodri Morgan served nine years, as will Carwyn Jones have when he stands down in December.
Mr Davies wrote: "Certainly one of the characteristics of the current non-debate in the Bay is a wish not to elect someone else who may wish to be in office for an extended period. Best elect an interim leader rather someone for the long term."
He said he would not want to see any leader serve more than two terms.
Mr Drakeford has said that, if he was successful, he will act as a "bridge" to the next generation of Labour leaders - suggesting that he would only serve into the next assembly term.
A consultation being led by former Torfaen MP Paul Murphy is looking at the process for electing the next leader, following calls to switch from an electoral college to one-member-one-vote (Omov).
'Wider party'
Mr Davies supports Omov, but says that trade unionists who pay a levy to back the Labour party should also get a vote.
He also called for MPs and Wales' council leaders to be given the ability to nominate candidates.
"By ensuring that any candidate would require support from both Westminster and council chambers across the country the leadership debate would extend beyond Cardiff Bay and would force potential candidates to think about the wider party and not simply the hothouse of the Senedd," he said.
Currently candidates need to reach a threshold of 20% of support from politicians that can nominate in the contest, but Mr Davies proposed it should be 10% instead.
He told BBC Wales would increase participation and ensure a wider debate.
"The wider UK party is going in the same direction - but I do believe that there needs to be a balance between challenge and accountability," he said.
Members will decide the system for voting for the next Labour leader at a special conference in September.