Unite Wales leader Andy Richards to step down in August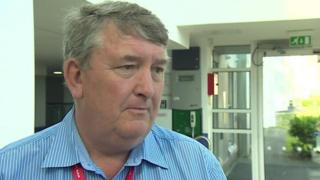 The leader of Wales' biggest trade union is standing down from the post next month.
Andy Richards, secretary of Unite Wales, will retire on the 3 August after 10 years in the job.
UN Unite leader Len McCluskey paid tribute to Mr Richards, saying he had served with "aplomb".
Mr Richards will be replaced by Peter Hughes, the union's deputy secretary in Wales.
After making his announcement, Mr Richards said: "Since my election as a shop steward at the age of 17, I have seen how trade unionists have always had to fight to protect the interests of their members during difficult times and I have seen many such times.
"But the times in which we now live are darker and more troubling than we have ever seen and never was the need for a strong, unified and focused Union more desperately needed.
"I have the upmost confidence that 'Team Unite Wales' are more than up for this task."
Paying tribute, Mr McCluskey said: "Andy played a central part in the creation of our union and has been the voice of Unite in Wales, building our industrial and political influences and leading 'Team Unite Wales' with aplomb."
In May, Mr Richards hit back at attempts to remove unions' central role in choosing the Carwyn Jones's successor as Welsh Labour leader, saying Unite Wales was "happy with the current system".
Labour is reviewing the rules, which currently weigh members are weighed against those of trade unions, affiliated groups, MPs, MEPs and AMs in an electoral college system.
But last week Unite Wales said all Welsh Labour Party members should have an equal say when electing the party's leader, using the same one-member-one-vote system (OMOV) used when Jeremy Corbyn was elected UK leader.