Teachers' pay rise a con-trick, says Carwyn Jones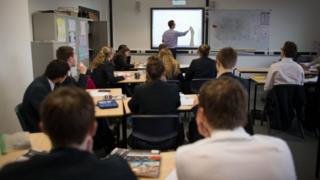 Pay rises for teachers announced by UK ministers are a "con-trick", First Minister Carwyn Jones has said.
Lower-paid teachers in Wales are set to receive an increase of up to 3.5%, alongside their English counterparts.
But as the pay rises are being paid for out of existing budgets in England, it is not expected there will be extra cash coming to Wales to pay for them.
UK ministers said they were delivering "pay rises for public sector workers while being fair to the tax payer".
The Institute for Fiscal Studies has estimated that about 60% of teachers, senior staff and head teachers will get below-inflation increases of 1.5% or 2%.
Teachers' pay is in the process of being devolved - but that does not come into effect until next year, and currently the UK government sets pay rates for teachers in England and Wales.
That is despite control over education in Wales being centred in Cardiff since the opening of the assembly in 1999.
On Tuesday the UK government said that a million public sector workers would be receiving their biggest pay rise in nearly 10 years - with members of the armed forces also set to benefit.
Half a billion pounds has been set aside in England over two years to fund the extra pay for teachers, but out of the existing Department for Education budget.
The 3.5% rises - worth between £800 and £1,366 per year - will go to many classroom teachers on the main pay range.
First Minister Carwyn Jones told BBC Wales without extra money to accompany the pay rises it would just mean fewer teachers and less money in schools.
"It's a con-trick," he said.
"The only way to do this is for the UK Treasury to say we'll make the money available in England and as a result Wales will get a consequential so we can do the same in Wales."
Education in Wales is paid for from local authority budgets, which are funded by the Welsh Government.
Any pay-rises therefore need to be paid for by Welsh ministers.
'Bleating'
But Rex Phillips, NASUWT National Official, said it was "no good the Welsh Government bleating about where the money is coming from to fund the pay uplift for teachers pay this year, as the award applies across England and Wales".
The UK government also announced pay rises of 2% for junior doctors, specialist doctors, GPs and dentists, with consultants getting a pay rise of 1.5%.
But NHS pay is devolved, the rise only applies in England. The Welsh Government is yet to decide whether to follow the decision.
Welsh Conservatives education spokesman Darren Millar said ministers in Wales received "£1.20 from the UK government for every £1 spent on schools in England, yet spend hundreds less per pupil each year".
"So instead of crying crocodile tears and making excuses the first minister should get his wallet out and give teachers in Wales the pay rise that they deserve," he said.
A Welsh Government spokesman said: "We are considering the recommendations made by the Doctors and Dentists' Review Body in their 2018 report. The Health Secretary will make an announcement in due course."
A UK Government spokesperson responded: "Today's awards deliver pay rises for public sector workers while being fair to the tax payer.
"The multi-billion NHS staff pay deal announced in March will deliver more money for Wales through the Barnett Formula, while we've always been clear that final pay awards for other workforces would come out of existing departmental budgets.
"The Welsh Government's block grant from the UK government has increased in real terms since 2015, including an extra £1.2bn at the budget in Autumn 2017."