Carolyn Harris: Corbyn backs under fire MP in gay slur row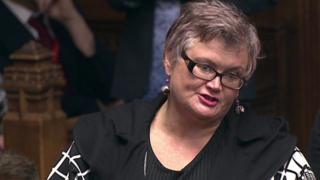 Jeremy Corbyn has backed an under-fire member of his shadow cabinet over claims she used a homophobic slur towards a gay colleague.
Swansea East MP Carolyn Harris is under pressure to quit her role as UK Labour's shadow equalities minister.
It follows claims made in court she used the term "dyke boots" to refer to the footwear of a former aide.
Labour leader Mr Corbyn and First Minister Carwyn Jones are both fully supporting her, the BBC has been told.
The allegation emerged in the trial of Jenny Lee Clarke, a former aide to Mrs Harris, who was cleared of fraud after being accused of giving herself a £2,000 pay rise.
The jury heard Ms Harris said "look at your dyke boots" to Ms Clarke after finding out she was gay when the two worked for ex-Swansea East MP Sian James.
Welsh deputy Labour leader Mrs Harris told the court if she had made the comments, it would have been "office banter", but has since apologised "unreservedly and unequivocally" for the "clumsy" use of the word banter.
Environment Minister Hannah Blythyn, one of the first openly gay members of the Welsh cabinet, tweeted: "It's never banter - it's homophobic language."
A spokesman for the first minister said he had spoken to Ms Harris and it was right for her to apologise.
"Language that offends, upsets or marginalises has no place in Welsh Labour," he said.
Several colleagues have come to Ms Harris's defence in the row.
Jeremy Miles, one of the first openly gay Welsh Government ministers, said while the use of banter to dismiss derogatory language was wrong, Ms Harris was "a good LGBT ally".
Labour shadow defence secretary Nia Griffith said Ms Harris was "not homophobic", while Gower MP Tonia Antionaizzi called her "inspirational".
Speaking on BBC Radio Wales, Labour AM Jenny Rathbone said had all the allegations been known before Ms Harris was elected deputy leader in April, she thought "it would have affected the number of people who put in their votes for Ms Harris".
However, chairman of pro-Corbyn pressure group Momentum, Jon Lansman, has called for the party leader to suspend her from her frontbench role and demanded an "immediate investigation".
Welsh Labour believes it conducted a "full and thorough" investigation in 2016, but Mr Lansman said this "doesn't appear to have involved an interview with Carolyn Harris".
"If that is the case I don't think that counts as a full investigation," the member of the Labour ruling body the National Executive Committee said.
In a statement, Ms Harris said: "I understand that banter was an entirely inappropriate - indeed offensive - word to use.
"In looking to answer - honestly - I said that in the context of our time working together that 'if I did it would have been banter'.
"I was trying to express that I would not want anyone to feel as if I were targeting them because of their sexuality, something I would never do.
"I can only hope that my actions to support the LGBT community in recent years as an MP and in the future will help heal any hurt."