Burka comments by Boris Johnson and Gareth Bennett racist, says Jones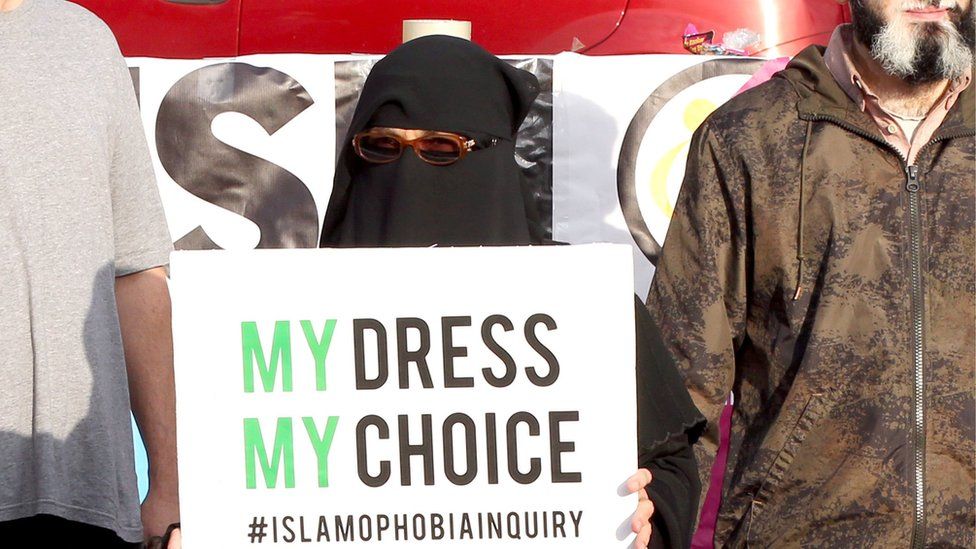 First Minister Carwyn Jones has stepped into the row about Muslim women's dress, denouncing "racist" comments.
Ex-Foreign Secretary Boris Johnson faces a Tory party inquiry after saying women in burkas looked like "letter boxes" or "bank robbers".
UKIP's new Senedd group leader Gareth Bennett said women wearing the veil are "apparitions of pre-medieval culture".
Mr Jones accused the two politicians of being "dangerously irresponsible" while trying to raise their profiles.
The Muslim Council of Wales has said the comments by Mr Johnson and Mr Bennett fuelled hatred.
In response, Mr Bennett said he would not be "closed down" by minority groups or a "hypocritical left seeking their own political gain by trying to stifle free speech".
In an interview with ITV Wales on Sunday, Mr Bennett said seeing people wearing burkas in Wales made him feel uncomfortable, claiming it was an "alien culture".
He said it showed an unwillingness to integrate and called for a debate on the issue, adding: "It feels like I'm in Saudi Arabia but in Cardiff, in Canton."
Mr Bennett added: "It's certainly not a pleasant feeling for many people in Britain, who are British and regard themselves as having British values, to be confronted by these apparitions which seem to be of some kind of pre-medieval culture."
In a statement on Monday, the first minister said: "We have to ask why Gareth Bennett and Boris Johnson are attacking Muslim women.
"It is clear to me that they are doing this solely to raise their own profile, to gain political advantage.
"But, despite their purely selfish motivations, their language has a broader, dangerous impact - it results in Muslim women being abused in the street. It legitimises xenophobic conversation and, ultimately, leads to further division and mistrust.
"This benefits nobody except Bennett and Johnson.
"The language they are using is dangerously irresponsible. It is racist. This is not how elected politicians in positions of responsibility should behave."
Mr Jones said the Welsh Government would "not be silent in the face of these grim provocations".
"We will redouble our efforts to create cohesive communities, to help people feel safe, and not just to tolerate - but to celebrate diversity," he said.
Dr Abdul-Azim Ahmed, Deputy Secretary General of the Muslim Council of Wales said the comments were "cowardly" and fuelled hatred.
He said: "The unhealthy focus on the clothing of Muslim women is disturbing and undemocratic, it emboldens hate crime, further marginalises public participation of religious minorities, and is a cowardly attack on Muslim women largely denied the public platform used by their attackers.
"We call on all politicians, from all parties, to resist the creeping fascism entering British and Welsh politics."
"If we are continually silenced and closed down by the shrill voices of minority group lobbyists then our right to free speech will gradually be destroyed", he said.
"I pledge to fight to uphold the rights of the majority to enjoy freedom of speech."
For heaven's sake - no, I am not comparing Muslim women to KKK members and yes, thank you, I do know the difference. I was graphically illustrating how full facial cover can be sinister, which is how many people view the burka.

— Christine Hamilton (@brit_battleaxe) August 11, 2018
Meanwhile Christine Hamilton, the wife and diary manager of UKIP AM Neil Hamilton, sparked a backlash after posting a tweet on Friday reading "If the #burka is acceptable then presumably this is too?" accompanied by a picture of members of the US white supremacist movement the Ku Klux Klan in their hoods.
She has been dropped as a charity ambassador by Muscular Dystrophy UK which said it opposed "prejudice and discrimination".
Mrs Hamilton later said her tweet had been misunderstood and she had not meant to compare Muslim women with white supremacists. She has been approached by BBC Wales for comment.