Brexit and Gibraltar: Welsh expats face the future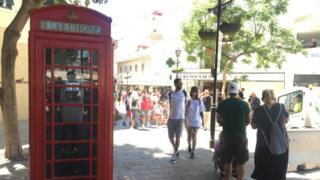 British fish and chips. Union Jacks adorned with pictures of Harry and Meghan. Red post and phone boxes.
Welcome to Gibraltar - a little slice of the UK just off southern Spain's Andalusia region.
It's a territory that has been in British hands for more than 300 years.
Famously home to roughly 300 Barbary macaque monkeys, The Rock is also home to about 30,000 people, including Eleri Surrey, originally from the Neath valley.
"Gibraltarians are very unique," she says.
"They are very British. In fact, many say more British than many mainland Brits. They feel it more."
Eleri has lived in Gibraltar since 1989, and was one of the almost 96% of people there who voted against Brexit in the EU referendum two years ago.
Memories of Spain's closure of the border between 1969 and 1985 played its part in securing the thumping majority.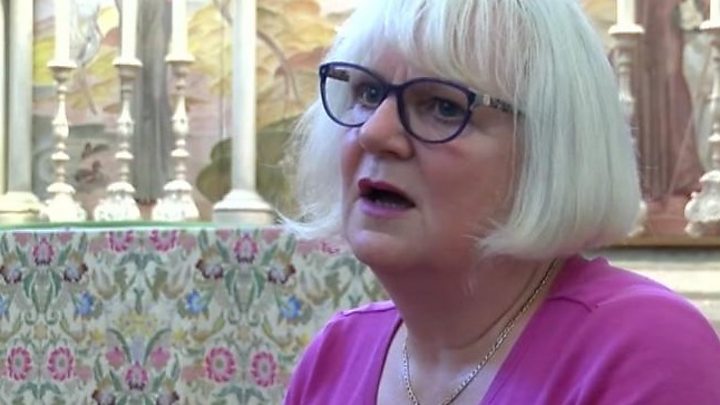 The border was only re-opened as part of Spain's negotiations to join the then European Economic Community.
In many ways Brussels is seen by Gibraltarians as a bulwark against a tricky relationship with their neighbours, who continue to claim sovereignty over the territory.
So, some on the peninsula see the UK and Gibraltar's departure from the European Union as potentially giving rise to an existential crisis.
Do the Gibraltarians - roughly 99% of whom voted in 2002 against joint UK and Spanish control - feel vulnerable?
"Yes, to a point," Eleri tells me.
"Perhaps not as vulnerable as the initial shock of the Brexit vote.
"But we're so close now. We're only just over six months away [from leaving the EU].
"It's getting tight and decisions need to be made, actions need to be taken.
"We need a little bit more than fine words from England telling us 'yes, we'll look after you'. Prove it."
---
Gibraltar - fact file
British territory since 1713, granted in a post-war peace treaty
Spain claims sovereignty
Just under 7 sq km (2.6 sq miles) - roughly half the size of Wrexham
Population around 30,000 - just under half that of Wrexham
Self-governing except for defence and foreign policy
Important British naval base
Financial services, tourism and online gambling are the main sources of income
---
As well as wanting to see Spanish flags fly once again over Gibraltar, the government in Madrid has repeatedly expressed interest in obtaining joint control of Gibraltar's airport.
As far as runways go, Gibraltar has one of the most remarkable yet terrifying landing strips in the world.
Jutting out into the Bay of Gibraltar, the strip of concrete on which only a handful of planes land and leave the peninsula every day seems impossibly short.
Added to the rather perilous mix is the only road in and out of Gibraltar, which intersects the middle of the runway, meaning traffic and pedestrians have to wait patiently at a red light for take-off and landing.
For about 10,000 people who live in mainland Spain, it is part of the daily commute into work in Gibraltar.
Originally from Pontypool, 50-year-old William George is one of those commuters.
Although he and his family have lived up the Spanish coast in the town of Estepona for about a decade, he makes the 45-minute journey to work for a recruitment company on The Rock.
"In the earlier days there were some periods of time maybe there were some queues," he says.
"I think the worst-case scenario was maybe an hour to cross the border.
"It hasn't been like that for some time. They've put in a new system there." William adds.
Unlike the UK, Gibraltar is not in the EU's customs union, so the border with Spain is manned and has from time to time been closed by Spanish authorities.
What happens to the frontier post-Brexit is of great concern to residents on either side of the border.
"Gibraltar needs that workforce that's coming from Spain and the local towns need that work from Gibraltar as well," William says.
"So, I think that somewhere they do want a mutual agreement - most definitely.
"It's in both sides' interest to make this work."
Around the corner from William's office is the main Grand Casemates Square, home to a remarkable concentration of fish and chip vendors and the first port of call for day-tripping tourists.
Fresh from a two-day cruise journey from Southampton is Phil Brace from the village of Pyle, near Bridgend.
"It's nice to have this area outside of the UK, which belongs to us," he says.
"But I think the Gibraltarians see their identity as being UK and not Spanish.
"I think it's nice for us to support that and to vote with them, really, to hang on to it."
But another member of his party isn't so sure.
"The people want to stay British," she says.
"But it seems really odd because just across the road there we're in Spain and it seems strange, but there we are."
What may seem odd to some is a way of life for Gibraltarians.
And whatever Brexit means, they'd like to keep it that way.