No-deal Brexit advice prompts Carwyn Jones's 'catastrophic' warning
By James Williams
BBC Wales Brexit correspondent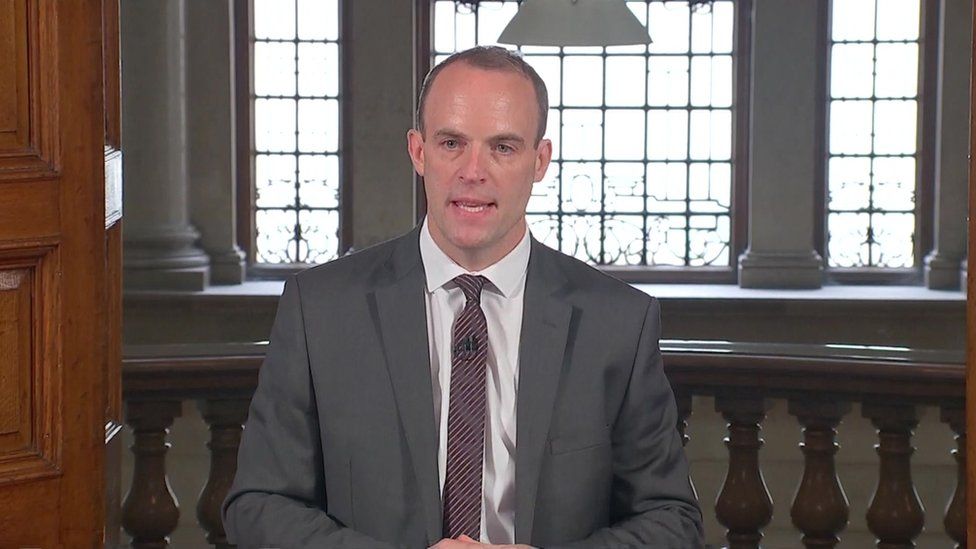 First Minister Carwyn Jones has claimed a no-deal Brexit would be a "catastrophic failure", as the UK government outlines contingency plans.
It has published 148 pages of guidance for people and businesses in case the UK leaves the European Union without agreeing their future relationship.
The first 25 of 80 documents include a pledge to guarantee farmers' payments of EU aid up until 2020.
Although Mr Raab said the "vast majority, roughly 80%, of the withdrawal agreement has now been agreed", there has been increasing talk and warnings in recent weeks about what might happen if the UK and the EU fail to reach a deal by Brexit day - 29 March 2019.
In a speech in Westminster on Thursday, Mr Raab said the advice was "practical and proportionate", adding: "I'm confident that a good deal is within our sights. That remains our top priority. It remains our overriding priority.
"If, as I expect, the EU responds with the same level of ambition and pragmatism we will strike a strong deal that benefits both sides.
"At the same time, naturally, we've got to consider the alternative possibility."
In the 25 documents, which cover sectors including medicine, finance and food, it says:
The cost of card payments between the UK and EU will "likely increase" and won't be covered by a ban on surcharges
Business trading with the EU should start planning for new customs checks, and might have to pay for new software or logistical help
Britons living elsewhere in Europe could lose access to UK banking and pension services without EU action
A licence might be needed to import nuclear materials from the EU
Farmers have been promised that, in the absence of a deal, they would continue to receive the subsidy payments they would expect under the current seven-year programme of the EU's Common Agricultural Policy, which runs until 2020.
The note on farming aid also said the UK government would "continue to commit the same cash total in funds for farm support until the end of this parliament, expected in 2022."
Glyn Roberts, president of the Farmers' Union of Wales, said the advice still left little idea of what would happen in the longer term.
"Take the stance on exports for example - it is left to businesses themselves to find out how they are going to be affected with no help to navigate the unknown waters," he said.
"And when it comes to tariffs, businesses will be left to hang. This should serve as a wake up call for anyone who derives their income from agriculture."
The Brexit secretary also said that in the "regrettable" event of a no-deal Brexit there would be "some countervailing opportunities" around things such as regulatory control and the ability to immediately strike international trade deals.
Responding to the UK government's plans, Carwyn Jones said a no-deal Brexit "would cause huge disruption and serious, long-lasting economic and social damage to all parts of the UK".
The first minister added: "It is hugely frustrating, because if the UK government had adopted the blueprint to negotiations we set out over 18 months ago, they could have made substantial progress on the future partnership with the EU.
"They also could have avoided the situation we face today where our biggest employers are considering leaving the UK with the loss of thousands of jobs causing disruption to our economy, our universities are at risk of losing out on vital research and our hospitals are warning of staff shortages putting patients at risk.
"'No deal' is not an option and the UK government's bluff is fooling no-one. It is time the Prime Minister dropped the poker face and worked constructively with the EU-27 to secure a Brexit deal that protects our citizens, services and economy," Mr Jones said.
Plaid Cymru's spokesman on Brexit in the assembly, Steffan Lewis, said a referendum should be called in the event of no agreement being struck.
"It is becoming increasingly clear that leaving the EU without a deal would be a mistake of historic proportions which would cause great harm to people's livelihoods, wellbeing and security," he said.
"There is no mandate for a disastrous no deal Brexit and the people should therefore be allowed to vote on whether or not such a scenario should be allowed to happen, if no deal is agreed."
Welsh Secretary Alun Cairns stressed the UK government's position, saying: "We do not want or expect a no deal scenario.
"As a result of the significant progress made in negotiations, we remain confident we will agree a mutually advantageous deal with the EU.
"However, it is the duty of a responsible government to prepare for all eventualities and I call on businesses and the people of Wales to look to the Technical Notices published today for guidance on the steps they would need to take to be in the best possible and most prepared position in the event of a no-deal scenario."
Related Internet Links
The BBC is not responsible for the content of external sites.