Plaid's nuclear compromise should change, says Leanne Wood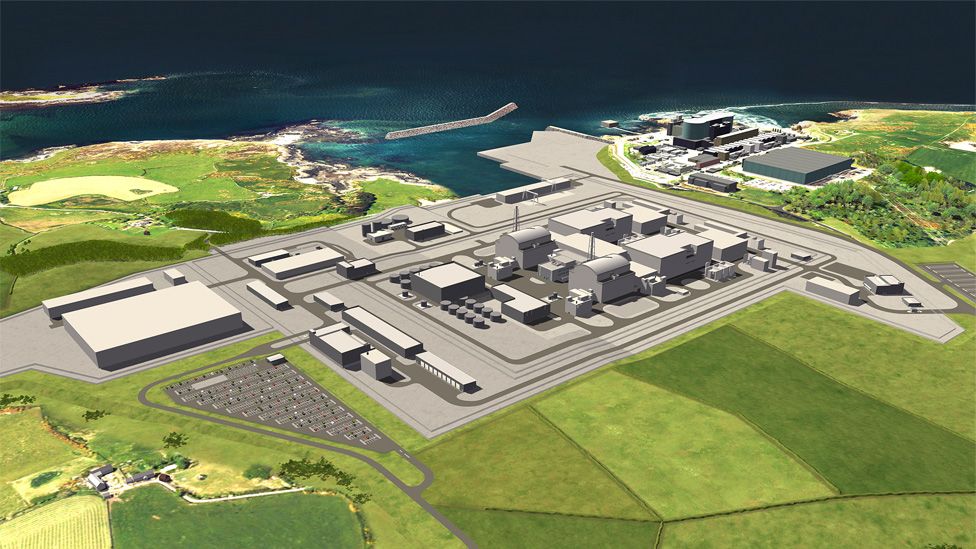 Plaid Cymru's compromise on nuclear power needs to change, leader Leanne Wood has said.
She said the party will fully review its energy policies if she is re-elected in Plaid's leadership election.
While Plaid Cymru has opposed nuclear it has not opposed the replacements of existing plants, such as the Wylfa Newydd project on Anglesey.
Leadership candidate Adam Price has said the new power station is incompatible with Welsh independence.
Their opponent, Ynys Mon AM Rhun ap Iorwerth, has backed Wylfa Newydd, also known as Wylfa B.
Ms Wood said Plaid Cymru's position no longer reflected the reality on the ground in Anglesey and expressed concerns over the 3,000 rented homes that would be needed for the power station's building phase.
She said: "Nuclear power has been a difficult issue for Plaid Cymru. We are opposed to nuclear power but have been forced to weigh concerns against the need to attract well-paid jobs to our rural areas.
"These concerns have created a compromise position of not opposing the replacement of existing nuclear plants. This has pitched people with concerns about the language and environment against each other."
She said that if Wylfa B did manage to get financial backing "there is growing concern from Ynys Mon residents that the construction phase will require an influx of workers from outside", putting "intolerable strain" on local infrastructure.
The review would study the possible negative effects a nuclear power project could have on the future of housing, the local economy and the Welsh language in Ynys Mon and neighbouring Gwynedd.
In a campaign document, Mr Price said the party "must be clear in its opposition to Wylfa B", arguing it could become an "enormous burden" if Wales became independent.
"The nuclear plant is designed to provide more electric power consumption than the whole of electricity demand in Wales," he wrote.
"If it could not secure adequate purchases from English customers at what is likely to be a much higher than market price, then the burden of paying for the electricity would fall on either Welsh taxpayers or Welsh energy consumers."
Plaid Cymru leadership Mr ap Iorwerth, said: "Potential long-term cost is certainly one of the issues that makes nuclear less attractive to me than investing in a renewables future, but as with other aspects of Wales' fiscal future, the journey to self-determination will be full of challenges.
"I'm confident we can overcome them and that's why as first minister I look forward to commissioning and overseeing the first ever government-led study of the real opportunities and challenges on the road to an independent Wales."
He added: "On Ynys Môn I will continue to pursue the interests of my constituents in relation to Wylfa, and of course as leader would support elected members at all levels in the party as they make decision relating to the economic circumstances of the areas they represent."
He recently wrote he has "maintained a positive working relationship with the developer" of Wylfa Newydd.