Labour leader candidate Drakeford says too early to back second EU poll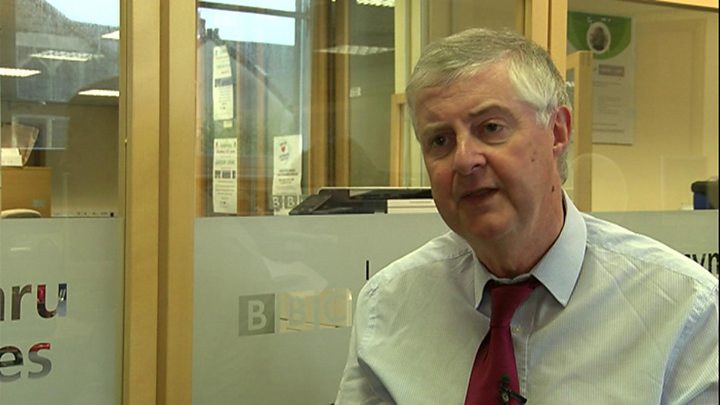 It is "too early" to back a second EU referendum, the frontrunner in Welsh Labour's leadership contest has said.
All the contest's other hopefuls - Vaughan Gething, Eluned Morgan, Huw Irranca-Davies and Alun Davies - back a vote on Brexit's final terms.
But Mark Drakeford said he wanted to keep all "possibilities on the table".
It would be for the UK government to hold a second referendum - although it has ruled it out under "any circumstances".
Mr Drakeford said a final decision could take the form of a vote, a general election or a "meaningful vote" in the UK parliament.
Although five Labour AMs have thrown their hats into the ring to replace Carwyn Jones as first minister after he stands down, only Finance Secretary Mark Drakeford and Health Secretary Vaughan Gething currently have the required backing of fellow AMs to get on the ballot paper.
Mr Drakeford supports UK Labour's current policy position of not calling for a new referendum but to "leave all options on the table".
He said: "A very important decision is coming in the autumn when the prime minister comes back with whatever deal she has struck and there will need to be a decision on whether that deal is acceptable or not.
"It could be by a referendum, it could be by a general election, it could be by a so-called meaningful vote in parliament.
"I think it's too early to be definitive. This is such a rapidly moving picture. We don't know what the deal will be."
Asked if he felt under pressure to change his position given the other candidates' calls for another referendum, the AM for Cardiff West said: "No, I don't because I don't support that view."
Second referendum supporters Lynne Neagle, AM for Torfaen, and Cardiff South and Penarth MP Stephen Doughty tweeted their disappointment with Mr Drakeford's comments.
Mr Doughty said a second vote was "what a majority of Welsh Labour members and voters clearly want".
Speaking to BBC Wales, Mr Gething said there were now more information and facts available about the process of leaving the European Union.
"We trusted the people with a vote on the idea about Brexit, we should trust them with a vote on the plan," he said.
Ogmore AM Huw Irranca-Davies has called on the next first minister to demand a "deal or no deal" vote on the final Brexit agreement, whilst Alun Davies, AM for Blaenau Gwent, has campaigned alongside the People's Vote campaign.
Eluned Morgan said it would "make sense" to ask the public again whether they are "content" with their decision in the 2016 EU referendum in which a majority of voters in Wales and across the UK voted for Brexit.
Asked if it would be undemocratic to conduct another EU referendum, the AM for Mid and West Wales said: "What's undemocratic is telling the people of Wales that they would be promised all kinds of goodies if we leave the EU and that's not what's delivered."
First Minister Carwyn Jones has consistently said he does not want to re-run the referendum campaign and that Wales and the UK should respect the will of the public vote.
But Ms Morgan believes there "will be increasing pressure" on the Welsh Labour government to move towards backing a fresh referendum.