Plaid leadership challenger Adam Price proposes 9p income tax cut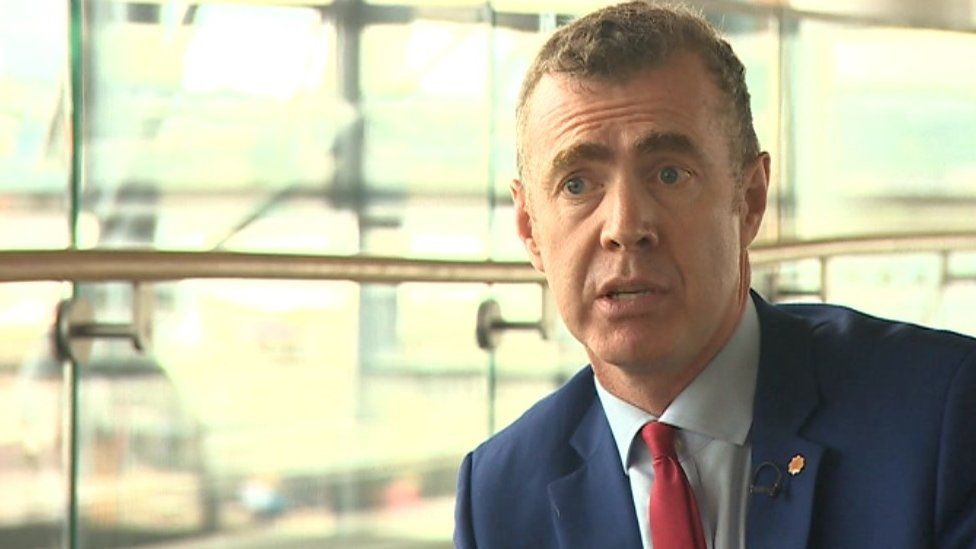 Wales should slash income tax rates to the lowest in the UK, according to one of the candidates challenging Leanne Wood for the Plaid Cymru leadership.
Adam Price said the basic, higher and additional rates could be cut by 9p and business rates and council tax ditched.
New land value taxes on residential, commercial and industrial residential land would fund the changes, he said.
Meanwhile, his rival Rhun ap Iorwerth said a "relentlessly radical" approach to the Welsh economy was needed.
Rhondda AM Ms Wood, party leader since 2012, has previously said the highest earners should "pay fair tax" and "corporation tax and other avoidance loop-holes" should be closed.
The Welsh Government is getting more tax powers next April, including partial control of income tax.
Mr Price said that if he became Wales' first minister at the 2021 assembly election, and ended more than two decades of Labour rule, his Plaid administration could reduce income tax to increase spending in the economy as it would "put more money in people's pockets".
The move would mean the basic rate falling from 20p to 11p in the pound in Wales over a decade.
The Carmarthen East and Dinefwr AM said the move would also make Wales "extremely attractive to young people seeking to return or relocate to work or start a business".
In proposals published on Friday, Mr Price said "introducing a National Land Value Tax on residential, commercial and industrial land (agricultural land would be excluded) could generate £6bn at a 3% rate on current values".
"This would enable us to abolish business rates, council taxes and lower income tax, at the basic, higher and additional rates, by 10p," he said.
"I propose that we cut it by 9p and use the remaining £250m as a 'penny for education' helping over-turn the chronic underinvestment in our schools, colleges and universities.
"But cutting the basic income tax rate even to 11% will provide a major economic boost to the Welsh economy through increased spending."
Setting out his economic vision in an article, Anglesey AM Mr ap Iorwerth said "multi-billion pound investment in our nation's building blocks" was needed, including transport and digital connections.
He called for an infrastructure commission "with a much wider remit than the commission now set up by Welsh Government".
He said he was determined to "increase the proportion of Welsh procurement spend kept within the Welsh economy to around 75% of the total, creating perhaps 40,000 jobs".
Mr ap Iorwerth said he wanted a "new development agency looking outwards to new export markets for our indigenous companies and seeking new sustainable investment" and to expand business rate relief and support for business "through an ever more ambitious and far-reaching public Welsh Bank that can raise loan and equity capital for businesses in Wales".
The winner of the leadership contest is due to be announced on 28 September, a week before Plaid Cymru's autumn conference.